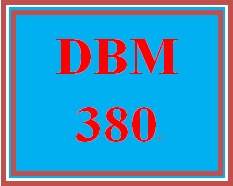 DBM 380 Week 4 Individual: Database Construction
Entire Course Link
https://zh.scribd.com/document/340327850/Uop-Tutorial
 DBM 380 Week 4 Individual: Database Construction 
This week in your Learning Team, you queried your Sparkle Diamond database. For this assignment, practice creating the database with ten new records andexecuting the queries on your own. Practice making the lists you provided in your Learning Team assignment.
Prepare a 6- to 8-slide Microsoft® PowerPoint® presentation with detailed speaker notes that includes:   
Normalized ERD  
Screenshots showing the query results  
SQL statements for each of the required queries  
A thorough explanation of the process you used to determine the data types used in each table  
A thorough explanation of the most difficult process in designing and building the data and how organizations overcome these difficulties  
Submit your presentation to the Assignment Files tab. 
You'll get a 750.9KB .PPTX file.