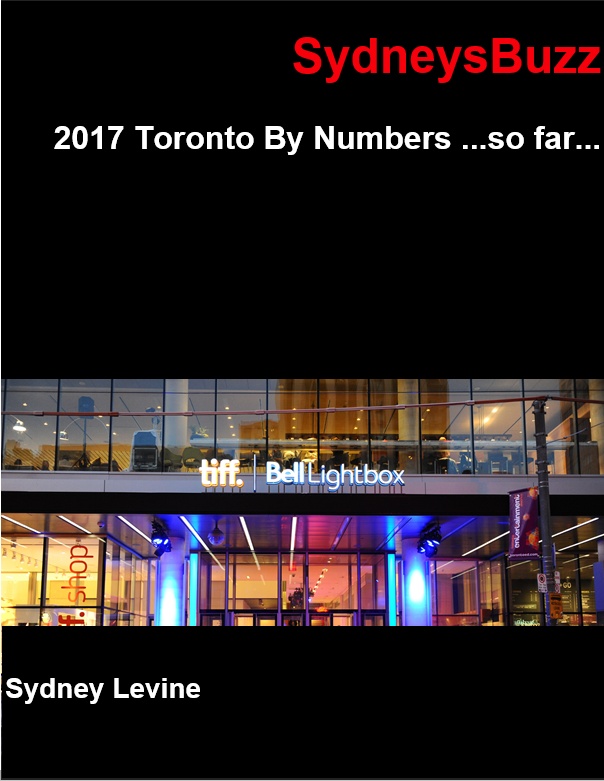 Toronto By Numbers So Far
Want to get a head start on your competition?

The Toronto By Numbers Report gives you an easy organizing tool of all TIFF films, sortable by international sales agents, North American distributors and in all categories from language, country, LGBT, female directors, African, MENA, Jewish, Latino.  

And all titles are linked to the Toronto online catalog which includes screening times.

After TIFF is over, look for the Rights Roundup which reports on sales made.

Armed with this information of top sellers with names and numbers you can plan your own tactics for buying or selling your film(s). With contact information on all of the 252 feature films (a smaller line-up compared to last year but still vaunting some impressive figures), 147 world premieres, 19 international and 72 North American premieres, you are ready for Toronto and already prepared for the next market and festival after that..

For $99.99 you can download into your own database the excel list of all Toronto films with synopses, genres, rights as reported on Cinando and IMDbPro, contact information and other details such as country, language, etc. 

35 shorts from 30 countries in 16 languages, have a strong presence from the Middle East and South America. Women directed 17 of the selections. These are not listed in the report.

As you will see in great detail (including synopsis, country of origin, language), of 252 features listed, 83% or 210 titles have international sales agents attached going into the festival; 8% of these came on just after TIFF announced all its titles. 30% or 76 have U.S. distribution; again 7 titles were acquired for U.S. just after TIFF's announcement.  The object lesson of this is that when top festival announces, the international sales agents and U.S. distributors jump on board as they now have the marketing hooks they need.

Of the total of 20 Galas and 64 Special Presentations. Six of the 20 Galas are directed or co-directed by women, or 30%. The number is smaller for Special Presentations: Women helmed 13 of the 64 films, approximately 20%.

What is notable this year is there are 15 films made in English by non-native English speakers such 55 Steps by Bille August,  Disobedience by Sebastián Lelio, Submergence by Wim Wenders,  Kings by Deniz Gamze Ergüven (Mustang), Beyond Words by Urszula Antoniak, The Mountain Between Us by Hany Abu-Assad (The Idol) and others.

Also interesting is that there are 15 films made in multiple languages, all using English and such languages as the Opening Night film Borg/ McEnroe in Swedish and French as well, Denis Côté's A Skin So Soft/ Ta peau si lisse in French and English, Daniel Kokotajlo's U.K. film Apostasy in English and Urdu, Hostiles in English and Cheyenne.  This is a step toward naturalism in our mutli-cultural world.

More Details About This Report:

DIVERSITY:

Woman directors: 86 or 34% (slowly getting there…)

LGBTQ – 17 or 7% of which 8 are Lesbian, 8 are Gay and 1 is Trans.

Asian and Asian Diaspora: 13 (5%). Angelina Jolie's First They Killed My Father is about the Cambodian author and human rights activist Loung Ung who recounts the horrors she suffered under the rule of the deadly Khmer Rouge. The Rider by Chloé Zhao is about a Chinese American; Mina Shum's Meditation Park is about Chinese Canadians with a stellar cast including Cheng Pei Pei, Sandra Oh, Tzi Ma, and Don McKellar — in her latest feature, about a devoted wife and mother (Pei Pei) who is forced to reassess her reverence for her husband after she finds another woman's thong in his laundry. Also there Oh Lucy! a Japanese American story by Atsuko Hirayanagi that played in Cannes' Critics Week this year, two Pakistani films, two Japanese films, two Indian films and single titles from Cambodia, China, Indonesia and So. Korea.

African-American: 12 or 5% (half of what played last year). African Jamaican this year is Grace Jones: Bloodlight and Bami directed by Sophie Fiennes

African: 8. 4 are from South Africa,1 is from Chad, 1 from Congo, 1 from Democratic Republic of the Congo, 1 from Liberia and Kenya, 1 from Nigeria. 

MENA (Middle East/ North African): 19 (8%) which includes 4 from Israel. Palestinian director Hany Abu-Assad (The Idol) is directing The Mountain Between Us, written by Chris Weitz and J. Mills Goodloe for 20th Century Fox about a surgeon (Idris Elba) and a journalist (Kate Winslet) who must rely on each other for survival when the small plane they share crashes in the wilderness.  3 films are Palestinian, 2 films are from Algeria, 2 from Egypt, 2 from Iraq.  There are films from Iran, Lebanon, Morocco and a Kurdish movie.

Latino: 6 of the 21 Latino films are Argentinian and 2 more are minority productions with Argentina. 4 films are Chilean, and of those, 2 are by Sebastián Lelio but 1 is not Latino in content.  1 Latino film is from U.S., 1 from Bolivia,. 1 is with Cuban content.  There is a film from Surinam (formerly Dutch Guyana), from Dominican Republic and Mexico; 3 are from Brazil.

Jewish: 2. Both are about Orthodox Jews in America.

Indigenous 8. 1 from Australia, 1 is Maori, 1 with Cree, 1 with Mohawk and 1 with a Cherokee.

-U.S. Distribution is already in place for 69 films (28%).  9 are with Sony Pictures Classics; 6 are with Netflix (including a series), 5 are with A24, 4 with The Orchard 

This list of U.S. distributed titles gives you some idea of what may be going to Academy Awards and who are the most active distributors in the U.S.

Distributors from other parts of the world are listed in the report as well, based on Cinando and IMDbPro.

-International Sales Agents (185 or 74%).  The Match Factory has the most with 8 films. MK2 and Memento have 5 each.  With 4 each there are Films Boutique, Films Distribution, Netflix, Protagonist, Seville, Sierra Affinity, Wild Bunch, and Embankment.

With 3 each: 20th Century Fox, Bac, Beta, Celluloid Dreams, Film Faxtory, IM Global, Indie Sales, Luxbox, Pyramide, Stray Dogs, Submarine, Westend.

With 2 each, there are Asian Shadows, Atlas, Bloom, Doc & Film, FilmNation, Finecut, Focus, Gaumont, Good Universe, Hanway, Les Films du Losange, Level K, Lionsgate, Mongrel, New Europe, Paramount, The Film Sales Co, TWC, Wide, XYZ. All the others have only one film per.

23 Producer Reps (most are representing U.S. or No. America) is a low figure this year.  No doubt the solid representation already in place by ISAs and U.S. distributiors has decreased the need for them.

A question often asked by indie filmmakers is do they need to have a producer rep? The answer varies. During Toronto and Sundance there are more producer reps on films than at any other festival or market. However, as of this date only 13 films have producer reps and they are mostly talent agencies who also represent the talent appearing in the movie or directing the movie. Publicists such as Required Viewing, PMK and others work now to get the professional buyers in as well as press. CAA has 8, UTA has 7, WME has 6, Gersch and Paradigm have one each.

There are 30 producers who have no one representing their films. These, unfortunately, will have the most difficult time getting professionals to view them as they will be perceived as having "failed" to get advance eyes of professionals who might acquire them before the festival.  During the festival is when the de facto market heats up the most for the new films of the year.  

You'll get a 195.8KB .XLSX file.
More products from SydneysBuzz.com, inc.