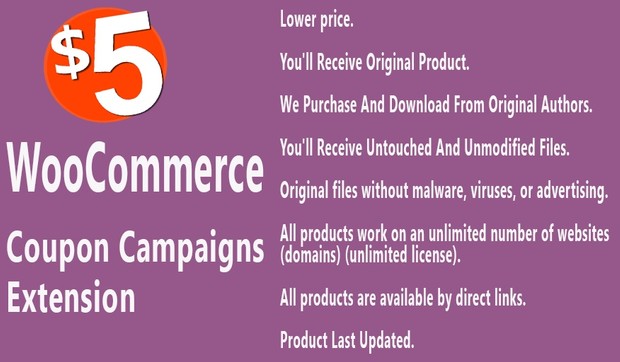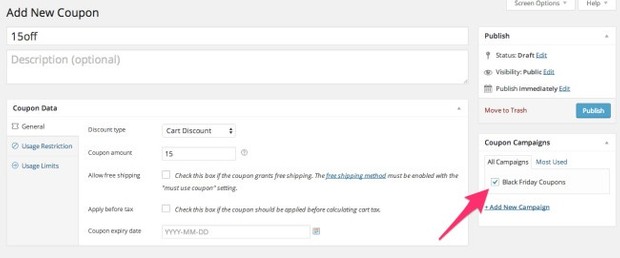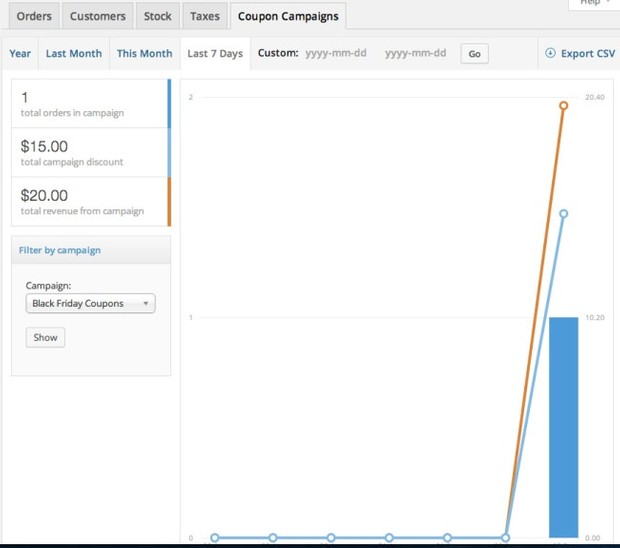 WooCommerce Coupon Campaigns Extension
WooCommerce Coupon Campaigns 1.1.1 Extension
---
WooCommerce Coupon Campaigns Extension Version : 1.1.1WooCommerce Coupon Campaigns: Power up your coupon performance tracking by grouping coupons into campaigns!
---
Exactly the same! This is the EXACT same plugin (Version 1.1.1) being distributed by WooCommerce.com
---
WooCommerce Coupon Campaigns: Why You Need ItSometimes WooCommerce's default 'coupon' interface just isn't enough to answer burning questions about how your coupons are performing. WooCommerce Coupon Campaigns solves this problem. Group coupons into 'campaigns' and track their performance accordingly. Coupons can be assigned one or more campaigns from the New Coupon edit screen.

WooCommerce Coupon Campaigns integrates campaign reports into WooCommerce' reporting dashboard. Analyze coupon campaign performance by date range.
---
Buy Now============================================You'll get a download link immediately after purchase============================================
Lower price.You'll Receive Original Product.We Purchase And Download From Original Authors.You'll Receive Untouched And Unmodified Files.Original files without malware, viruses, or advertising.All products work on an unlimited number of websites (domains) (unlimited license).All products are available by direct links.Product Last Updated.Download WooCommerce Coupon Campaigns.You'll receive the exact .zip file you would download from the original author. If you buy from here, you can save your money up to 99% and 100% virus free.Viewhttps://woocommerce.com/products/woocommerce-coupon-campaigns/
You'll get 1 file (14.3KB)
More products from WooCommerce Plugins Extensions