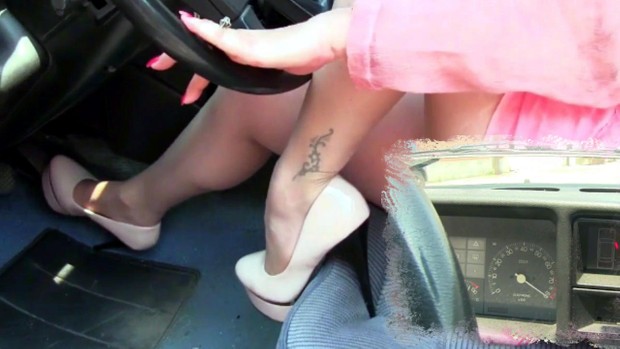 170 : Lancia Prisma The Hard Revving | Starring Miss Vicky
"We have to check the engine to see if everything is in order, and I know very well how to check the engines!" Miss Vicky says. With a pink dress and nude high heels (really high), she caress the car slowly while talking to her.
"My poor baby, are you ready to scream under my feet?"

The car turns on immediately, so she thinks it's a complete yes! She starts with a delicate revving, just to slowly heat up the engine and see if everything is okay.

"Woah! This is a fantastic engine to hear!"

After a few revs she fell in love with the power and the melody of the engine, and so she wants more of it! So she pumps harder and harder, keeping the engine at max revs for long, to let it scream!

She has to rev the car so hard because she has to check if everything is okay... And apparently the engine is in a perfect shape!

While you hear the engine screaming, you admire Miss Vicky feet caressing the pedals, while sometimes they stomp on the gas, for a quick and hard rev!
__________________________________________________________________

Here is the feedback that the customer who asked for this custom video left us :-)

OMG Fantastico ! Eccezionale !! Perfetto xxx You have done it again.  

My perfect hard revving video.   You look so beautiful. Your stockings and cream high heels shoes are to die for. You make that Prisma scream and scream hard under your high heels.  

I love the way you really rev rev rev right at the end. All the action is captured from every possible angle.  My heart is still beating a million miles an hour.

My sincerest thanks and gratitude to you and everyone involved in bringing my fantasy to life !
You'll get 1 file (298.8MB)