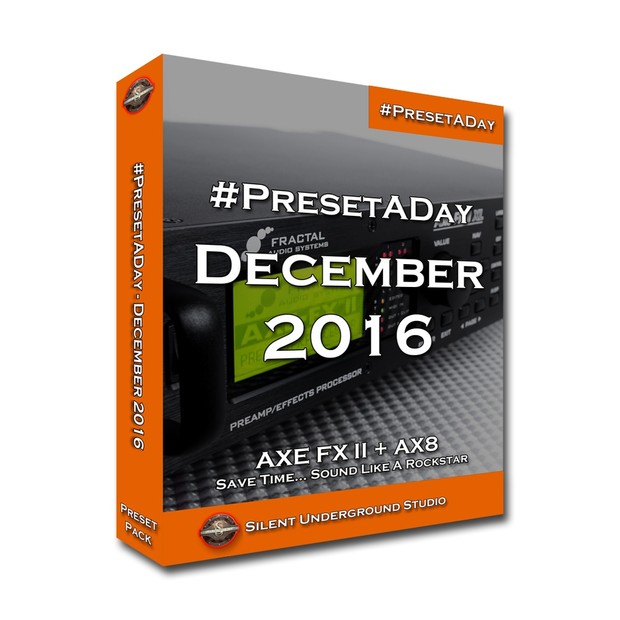 #PresetADay - DECEMBER 2016 (FAS)
All 30 Days of December #PresetADay presets + 10 previously unreleased !!Hear the demos HERE
:
https://goo.gl/hSxL3I
Set up for:
Direct to DAW, Studio Monitors, FRFR, Direct to FOH use
Firmware:
Quantum 6 or higher.
Model:
AXE FX II, AXE FX II XL, AXE FX II XL+, AX8
Cabinet IRs:
Uses a custom Cabinet IR - Included
Scene Switching:
 5 Scene modes: Clean, Crunch, Rhythm, Lead, Wah Lead
Updates:

3/1/17 - Fixed incorrect file extension for Day 27 and 30.
5/1/17 - Updated file hierarchy to seperate by unit
22/3/17 - Manually fixed FracTool created errors for AX8 units

Presets Include:
(all available in individual amp chains as well for AX8 users)
Herbie Ch 2+ / Dizzy V4 Blue 3
Euro Uber / Dizzy V4 Blue 3
USA Pre LD2 Ylw / Dizzy V4 Blue
Recto Org Norm / Brit 800
Plexi 50w 6560 / USA IIC++
Comet 60 / Hot Kitty
BIG Hair / Brit Brown
Div13 CJ Boost / Citrus A30 Dirty
Euro Blue Mdrn / Shiver Lead
Brit 800 Mod / Dizzy V4 Slvr 3
USA IIC++ / Dizzy V4 Silver 3
Brit 800 / Friedman HBE
Citrus RV50 / Euro Uber
5153 100w Red / Plexi 50w Jump
JVM OD1 Gn / Cameron CCV 1B
JVM OD2 Gn / Plexi 50w Hi 1
CA Triptik modern / Capt Hook 3A
Bogfish Strato / Friedman HBE V2
Plexi 100w Nrml / Brit JM45
Euro Blue Mdrn / 5153 50w Blue
Recto 2 Org Mdrn / V4 Blue 3
Energyball / FAS Modern
Capt Hook 3A / Energyball
Recto2 Red Mdrn / Thorndendal Vint
Brit AFS100 2 / Brit Super
Capt Hook 3A / Solo 100 Rhythm
FAS Crunch / JS410 Crunch Red
Friedman BE / Fryette D60L
Triptik Mdrn / Euro Red Mdrn
Euro uber / Solo 88 Lead
FAS HotRod / CA3+ Lead
FAS Brown / Angle Severe 2
PVH 6160 BLOCK / RECTO2 Red Vntg
Cali Leggy / JMPre-1 OD2
Brit 800 Mod / USA IC+
Herbie Ch2+ / FAS Modern II
Legato 100 / Cameron CCV 1B
Recto2 Org Mdr / Spawn Nitrous 2
Thordendal Mdrn / FAS Brootalz
5153 100w Blue / Citrus RV50
Please Note
: All December presets require our custom #PresetADay Cabinet IR. Included for FREE. The cab is the same for each preset so no need to reload the IR if you have already downloaded another preset this month.
The Cabinet IR is a custom blend of a Blackstar Series one 4x12 loaded with 2 x Vin 30 speakers + 1 x Emenence Red, White and Blues and 1 x Emenence Texas Heat. All mic'd with a Shure Sm57 and a Sennheiser MD421.
Disclaimer:
Please first know HOW to use your hardware / software BEFORE purchasing our products. They are made to work in any standard AXE FX II / AX8 setup without the need for additional external processing. No refunds are given on digital products.
You'll get 1 file (2.6MB)
More products from Silent Underground Studio