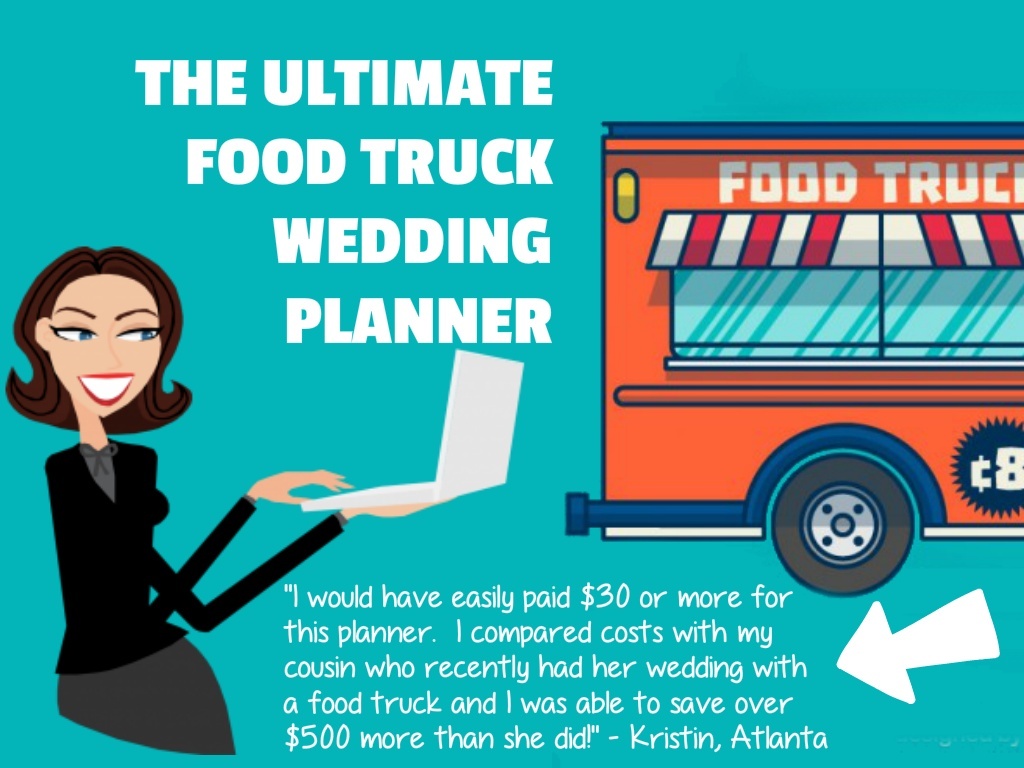 Food Truck Wedding Planner & Checklist
                     PRINTABLE + EDITABLE + PROVEN 
Food Revolt is the largest food truck authority sites in the world.  Over the years, we've talked to thousands of food truck owners and brides.  We have learned a lot and through that knowledge, we know what a perfect "marriage" a food truck can be for the bride that has style and is budget savvy.  We want to share our knowledge with you! We want to help make your special day one, you and all of your guests will be talking about for years! We've created the ultimate food truck wedding planner and checklist for you.  This editable planner will help you organize all of your wedding reception event details so you're better prepared to get accurate quotes from any food truck vendor you call on.  In addition, we've added a side-by-side comparison chart to help you evaluate which food truck will be the best for your wedding day.

---
"I'm glad I bought this checklist before I picked up the phone and started calling food trucks!  It's a great guide to help you prepare for your conversation and once the food trucks knew I was educated about their industry, all of a sudden...the pricing got much better and they took me more serious."   
- Susan, Chicago, IL
---

WHAT YOU GET:

CHECKLIST & PLANNER:You'll get a serious checklist and planner that will ask all the right questions about your special wedding day so that when you call your local food trucks there won't be any "monkey business."  
They will respect your preparedness and give you their best price as a result.  Trust us.  We have sold over a 2,153 of our guides to brides and grooms just like you all of the country and the feedback is all the same.  Endless thanks!

COMPARISON CHART: After you have used our checklist and planner to gather your thoughts, questions and event details ready...it is now time to call your food trucks and get the best deal!We've created a handy side-by-side comparison chart to help you compare and contrast each food truck so that you're absolutely sure you're making the best match for your wedding.
Do they customize the menu?  How much do they charge per guest?  Will they stay late into the evening?  Are they licensed and insured?  
It's a lot to keep track of and one of your most important decisions and purchases for your wedding.Well...what are you waiting for?

---
"I would have easily paid $30 or more for this planner.  I compared costs with my cousin who recently had her wedding with a food truck and I was able to save over $500 more than she did!" Kristin - Atlanta, Georgia 

---
You'll get a 24.4MB .PDF file.
More products from foodrevolt