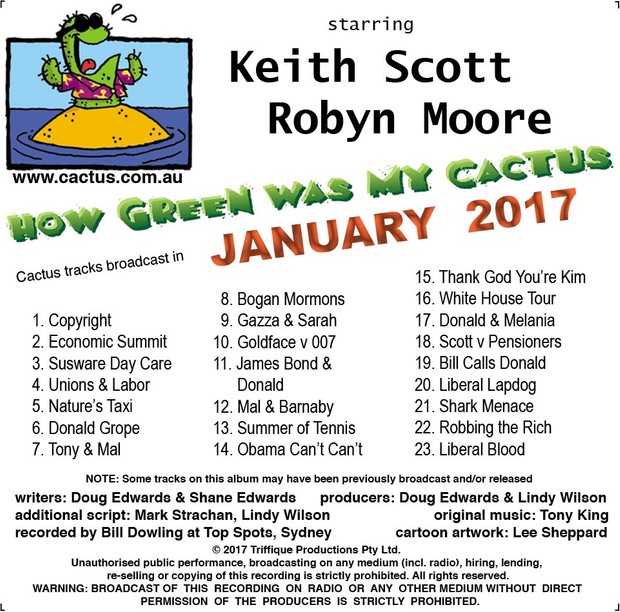 CACTUS - JANUARY 2017
DESCRIPTION
CACTUS - JANUARY 2017
TRACKS
1. Copyright: All material downloaded is copyright.Unauthorised public performance,broadcasting on any medium (including. radio),hiring,lending,re-selling or copying of this recording is strictly prohibited.All rights reserved. ©2016 Triffique Productions Pty Ltd
2. ECONOMIC SUMMIT: At Malcolm Talkbull's economic summit, the Green Party demands a 35-hour week for brood hens.
3. SUSWARE DAY CARE: Hey failed business people! Want the franchise deal of a lifetime? Own a piece of Susware's new chain of day care centres! Yes, SusCare is here!
4. UNIONS & LABOR: Tanya Plibersexy and Doug McDoug tell Labor leader Bill Curly that links with the union movement are damaging the Party. But Bill isn't listening, he's on a smoko.
5. NATURE'S TAXI: Naturalist David Kittenburger takes us to Cactus Island to study an amazing creature, the Taxi, so called because of its luminous crest in the shape of the word Taxi.
6. DONALD GROPE: US president-elect Donald Dump gropes famous women of the world, Queen Bessie of Buckingham Palace, Angela Merkel, Kim Kardashian, but not Jacqui Tacky.
7. TONY v MAL: Judge Cranky presides as ex-PM Tony Abs sues current PM Malcolm Talkbull for unfair dismissal. Her Honour is swayed by Mal's main arguments, champagne and truffles.
8. BOGAN MORMONS: The Bogan family is visited by Mormon missionaries who are saddened by Davo and Shazza's difficult lives…until young Brock steals their bicycles.
9. GAZZA & SARAH: Sports editor Big Gazza Roidman says the drugs in sport scandabacle goes on and on like Oprah's dinner. His editorial is interrupted by Greens senator Sarah Handsome-Rack.
10. GOLDFACE v 007: James Bond, 007, is on a mission to stop a madman who wants to take over the world. That's right, Goldface, also know as Donald Dump.
11. JAMES BOND & DONALD: James Bond, 007, tries to complete his mission to stop the madman Goldface from taking over the world. He tracks Goldface to a remote island in the Atlantic Ocean, Manhattan.
12. MAL & BARNABY: The National Party leader Barnaby Joh believes the Chinese are buying up our land so they can it take home to build a second storey on China.
13. SUMMER OF TENNIS: Tennis on 7! You will believe a ball can fly. You will believe that sweat can drip. You will believe a shoe can squeak. Tennis on 7! It's our racquet. Do you have the balls?
14. OBAMA CAN'T CAN'T: Ex-President Barack O'Bummer recalls the triumph of his election, his brilliant 'Yes we can!' campaign. To the tune of Can-Can of course.
15. THANK GOD YOU'RE KIM: North Korea's Dear Leader Kim Jong Nong shows off his new hair cut. 'If this doesn't show the world that I can do what I like, nothing will.'
16. WHITE HOUSE TOUR: President Donald Dump shows his wife Melania the White House for the first time. Melania assumes that Barack and Michelle are the gardeners.
17. DONALD & MELANIA: Donald Dump reveals that, as a brilliant businessman, working in the Oval Office pose a problem – there's no corners to hide his illegal Mexican workers.
18. SCOTT v PENSIONERS: Old-age pensioners, Violet Crumble and Earl Grey, demand that Treasurer Scott Borrowsome drop plans to cut their pensions or they'll dunk him in their commode.
19. BILL CALLS DONALD: Labor leader Bill Curly calls US President Donald Dump to apologise for calling him 'barking mad'. Bill explains his words as 'locker room banter'.
20. LIBERAL LAPDOG: The right wing of the Liberal Party has built a kennel under the big flag pole on top of Parliament Grouse for their lapdog Malcolm. The pole comes in handy for Malcolm.
21. SHARK MENACE: Cactus Tonight host Tracy Gasbag reveals that many shark attack victims do not report the attack. They include Oscar Pistorius, Bruce/Cailtlin Jenner and Michael Jackson.
22. ROBBING THE RICH: Bill of Labor, alias Robin Who, leads his Merry Men to King Mal's treasury to rob it, only to find the treasury has been empty since Labor was in power.
23. LIBERAL BLOOD: The Cactus Home Shopping Channel's Moira Gush demonstrates a cleaner so powerful that it can clean blood from the walls after a Liberal Party meeting.
NOTE: TRACKS ON THIS ALBUM MAY HAVE BEEN PREVIOUSLY BROADCAST AND/OR RELEASED.
COPYRIGHT: All tracks and material ©2015 Triffique Productions Pty Ltd. All rights reserved. All material downloaded is copyright. Unauthorised public performance, broadcasting on any medium (including. radio), hiring, lending, re-selling or copying of this recording is strictly prohibited. All rights reserved.
You'll get 1 file (45.2MB)
More products from doug_e