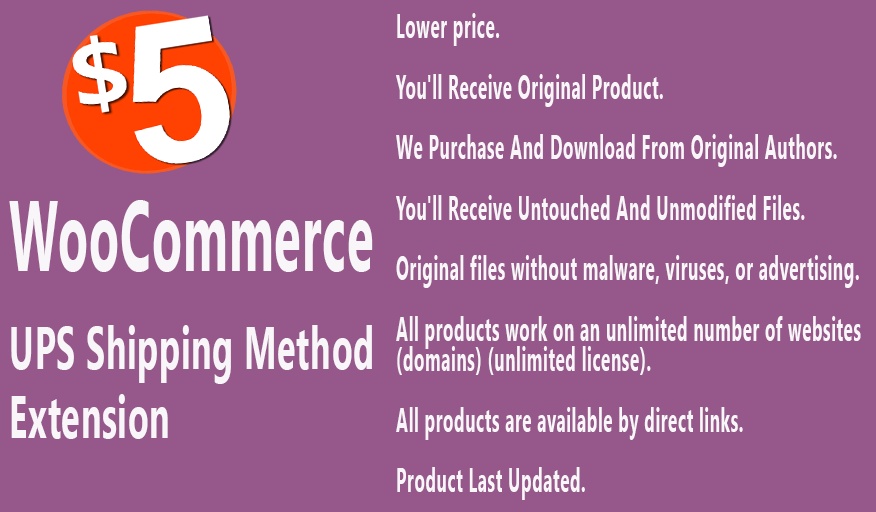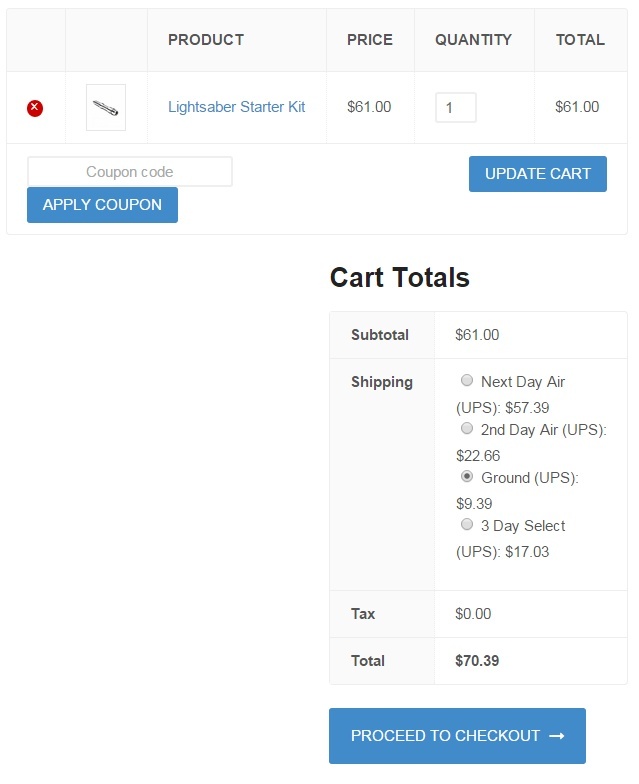 WooCommerce UPS Shipping Method Extension
WooCommerce UPS Shipping Method 3.2.9 Extension
---
WooCommerce UPS Shipping Method Extension Version : 3.2.9WooCommerce UPS Shipping Extension: Offer UPS as a shipping option in your WooCommerce store. Ship domestically and internationally.
---
Exactly the same! This is the EXACT same plugin (Version 3.2.9) being distributed by WooCommerce.com
---
WooCommerce UPS Shipping Extension: Why You Need ItWhen customers are confident, they buy more. Give your customers a delivery option they can trust.UPS is a multi-billion-dollar company trusted worldwide.This extension requires that your server has SimpleXML installed. It primarily works with ins and lbs, but other units can be converted automatically. The Rates API will return rates in the currency of the country in which the API was registered so make sure this matches your store.Domestic service options supported include:Next Day Air EarlyNext Day AirNext Day Air Saver2nd Day Air AM2nd Day Air3 Day SelectGroundStandardInternational service options supported include:Worldwide ExpressWorldwide Express PlusWorldwide ExpeditedSaver
---
Buy Now============================================You'll get a download link immediately after purchase============================================Lower price.You'll Receive Original Product.We Purchase And Download From Original Authors.You'll Receive Untouched And Unmodified Files.Original files without malware, viruses, or advertising.All products work on an unlimited number of websites (domains) (unlimited license).All products are available by direct links.Product Last Updated.Download WooCommerce UPS Shipping Method.You'll receive the exact .zip file you would download from the original author. If you buy from here, you can save your money up to 99% and 100% virus free.Viewhttps://woocommerce.com/products/ups-shipping-method/
You'll get a 50.6KB .ZIP file.
More products from WooCommerce Plugins Extensions