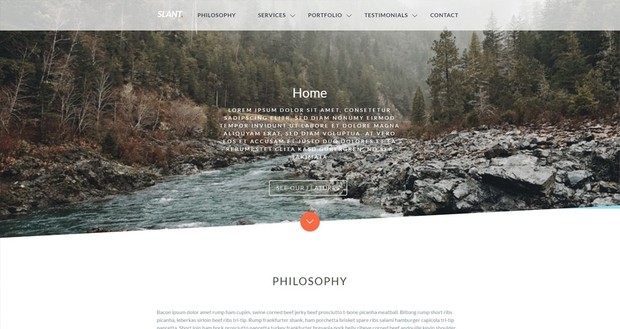 Kirby Theme Slant
You need to get your full-featured website online on-the-fly? The slant theme is our toolbox for you. A multi-functional onepager theme for Kirby CMS, a file based Content Management System. Everything can be created, modified and deleted from the panel, the administration part of the CMS.
More information on
http://getkirby.com/
.
You can manage your site by using the pre-configured basic page, containing mutliple content elements:
a text section

a services section to present your services, which you can add as single items 

a "Portfolio" Section for your products / projects / items, which you can add as single items 

a slider section, with a nice animation for some pictures

a "Testimonial" section featuring some of your favorite quotes

a Contact section, containing a contact form

or you can even disable the onepager mode and use all of the content element types as single pages as well as you can always add single static pages if you want to have additional content extending your onepager home site.You could also use the portfolio to present nearly anything else. 
Photographs? Blog Articles? Events? Reviews? - We've got you covered.
No need for a developer, no need for an expert, you can create and modify the site on your own.
The docs will set you up with everything you need from the start to get the theme up and running. In addition we added some sample content to give you a head-start on the structure.
And like all of our other themes, this one is responsive too, of course!
Let us know if you've got any issues feedback for us and we will get back to you in no time!
Live DEMO:
http://www.kirby.acrontum.de/themes/acrontum-slant-theme/
Images from
http://unsplash.com
Visit us at
https://www.acrontum.de
You'll get 1 file (15.4MB)
More products from Acrontum GmbH