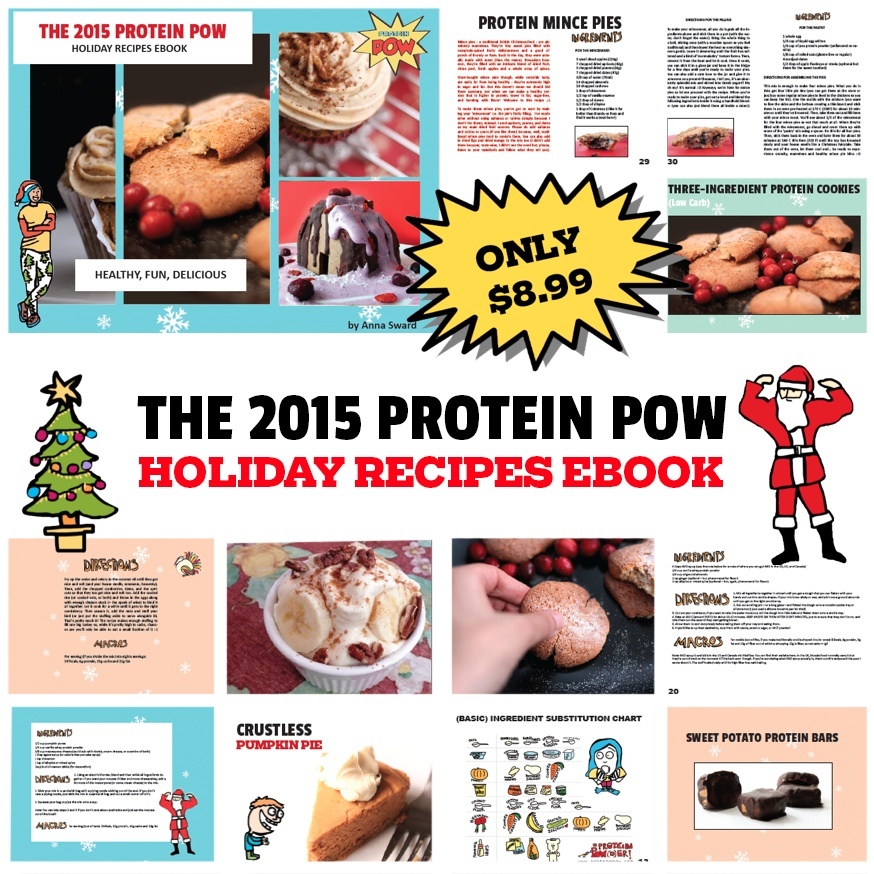 The Protein Pow Holiday Recipes Ebook
This ebook contains several of my all-time favorite protein-packed recipes for the holiday season.

They're all sugar-free, gluten-free, and packed full of nutrition. I urge you to print it out and, if you can, turn it into a mini book by getting it spiral-bound in your local print shop. That way, you can keep it in your kitchen, leaf through it, and cook up a protein storm this holiday reason. You can even give it a to a friend alongside a tub of protein powder :-) The point is for it to be accessible to you and inspire you to get creative with your cooking - and your protein!

All the recipes found here are inspired by three interdependent passions: a passion for exercise, a passion for nutrition, and a passion for great-tasting food. They are what inspire me to experiment with my ingredients and to focus on creating the tastiest and most nutrition-packed foods I can imagine.

Its table of contents is as follows:

INTRODUCTION 8-9
INGREDIENT CONVERSION CHART 10-13
SWEET POTATO PROTEIN BARS 14-15
GRANMA'S CHRISTMAS COOKIES 16-17
THREE INGREDIENT PROTEIN COOKIES 18-21
GINGERBREAD PROTEIN HOUSE 22-25
STRAWBERRY-FILLED DARK CHOCOLATE TRUFFLES 26-27
PROTEIN MINCE PIES 28-31
PROTEIN LEBKUCHEN 32-33
GINGERBREAD PROTEIN BARS 34-35
PROTEIN YULE LOG 36-37
HEALTHY TURKEY STUFFING 38-41
HOLIDAY FLUFF 42-43
PEANUT BUTTER & CHOCOLATE CHRISTMAS TREES 44-47
GINGERBREAD PROTEIN MEN 48-51
PROTEINPUMPKIN PIE 52-55
PUMPKIN MOUSSE 56-57
CRUSTLESS PUMPKIN PIE 58-59
BANANA & SALTED CARAMEL VEGAN PROTEIN CUPCAKES 60-63
CINNAMON COOKIE DOUGH PROTEIN BARS 64-65
GINGERBREAD PROTEIN CUPCAKES 66-67
PRESENT 68-69
PUMPKIN PROTEIN BARS 70-71
PUMPKIN SPICE PROTEIN PANCAKES 72-73
PUMPKIN SPICE PROTEIN BARS 74-75
MAPLENESS PROTEIN CAKE 76-77

More from this seller
With this ebook YOU WILL NEVER HAVE TO BUY ANOTHER PROTEIN BAR AGAIN.

It teaches you how to make your own protein bars and contains my best protein bar recipes, most of them new or now removed from proteinpow.com to feature exclusively in this ebook.

Inside the ebook, you will find recipes for ...