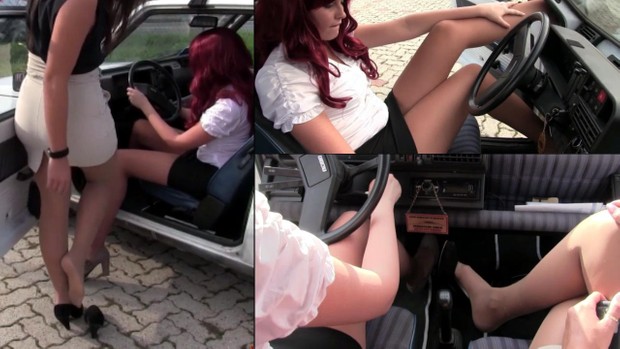 108 : Miss Iris & Miss Melanie shoeplay and cranking ... hoping to go to the party!
Miss Iris and Miss Melanie, wearing sexy outfits and heels, are heading to work with the Panda today. The little Fiat isn't so happy to go to work as they are, and probably its engine is still sleeping, as it makes some strange noises and sometimes it doesn't want to accelerate...

Everythig goes fine until after a red the engine stalls. Iris restarts it but it's hard, and you can see it just by the closeup view of her feel pumping the pedal while both girls beg the car to start in italian and in spanish...

The temperature is rising inside that car while those two ladies don't know how to restart it... Can you feel the heat?

After some "inconvenients", they arrive at the office, ready to forget about the problems occurred that morning and to start a new work day.

When they leave the office they are so excited for the party they will attend later that day that they forgot about all the Panda problems... But the Fiat will soon remember to the girls all of them...

As soon as Melanie tries to start it, it refuses to start! What a shame! Melanie firmly pumps the pedals, desperately trying to start the engine but with no luck.

Later Iris arrives and thos two sexy ladies try to start it!

Will they make it? Will they arrive at the party? You'll discover it just watching the clip!
You'll get 1 file (845.9MB)
More products from Pedal Vamp