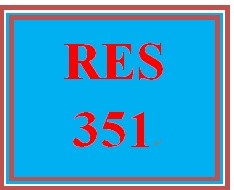 RES 351 Week 4 Team Presentations - Conducting Business Research Part 2
RES 351 Entire Course Link
https://uopcourses.com/category/res-351/
RES 351 Week 4 Team Presentations - Conducting
Business Research Part 2
Use information
presented in Conducting Business Part 1 to develop a Microsoft® PowerPoint® presentation
of at least 10-15 slides representing a research brief to senior management.
 Provide a brief overview of the organization.


Strategic
direction of the company including mission, vision, goals, objectives and
targets?


The one
issue, opportunity, or problem facing the organization


The
management dilemma





The research questions for the business research
problem


The hypotheses for the business research problem.







Provide
several alternative solutions to the opportunity or issue.


What is your
suggested solution? Explain why.


Click
 the
Assignment Files tab to submit your assignment. 
You'll get 1 file (135.3KB)