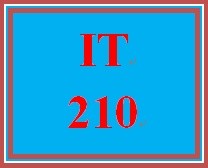 IT 210 Week 6 Currency Conversion test cases (draft final project part 3)
**********************************************
IT 210 Entire Course Link
https://uopcourses.com/category/it-210/
**********************************************
IT 210 Week 6 Currency Conversion test
cases (draft final project part 3)
Generate a set of test
inputs and expected results for the four subordinate modules (excluding Main
Control) of the Currency Conversion project.  These submodules are:


Display Menu


Get Input


Convert
Currency


Display Results.


The test case template is under Discussion on this
Assignment below.  It is required that you use it (20 of the 80 points
depend on it).  Your assignment is to fill in the entries where it
says 
<enter
here.  
Please do not include the < . 
Post the completed test case template as an attachment in
the Assignments link.
You'll get 1 file (17.6KB)