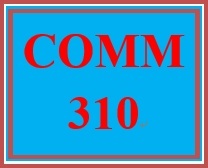 COMM 310 Week 4 Collaborative Self-Reflection
Entire Course Link
https://zh.scribd.com/document/340327850/Uop-Tutorial
 COMM 310 Week 4 Collaborative Self-Reflection 
Complete a collaborative team reflection, of 150 to 350 words, of your team presentation from Week 3. This is a team assignment not individual.
Include the following in your team's reflection:   
What were the strengths of the team's presentation?  
What opportunities does the team have to improve future team presentations?  
Format your assignment according to appropriate course-level APA guidelines.
Submit your team's assignment to the Assignment Files tab.
You'll get a 50.0KB .DOC file.