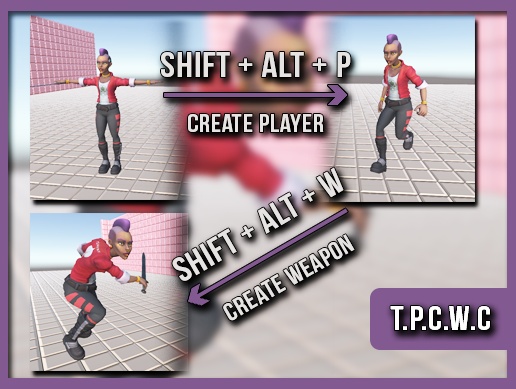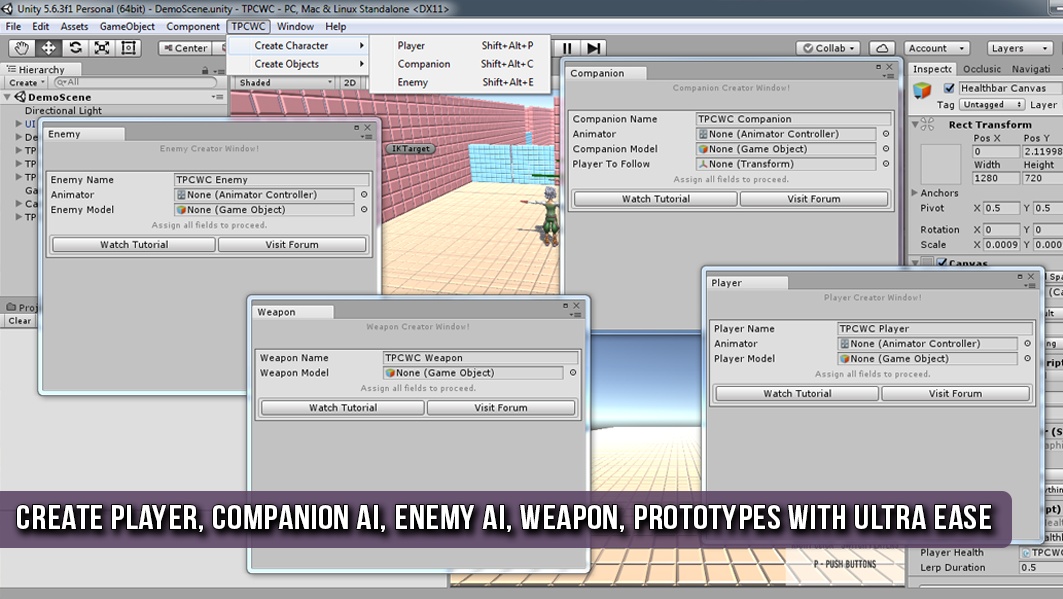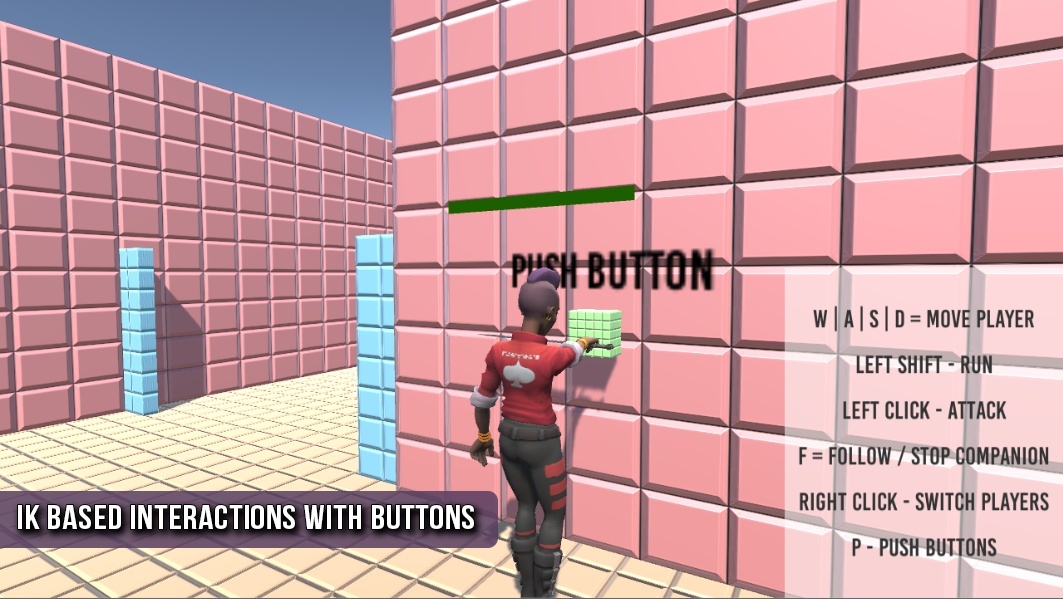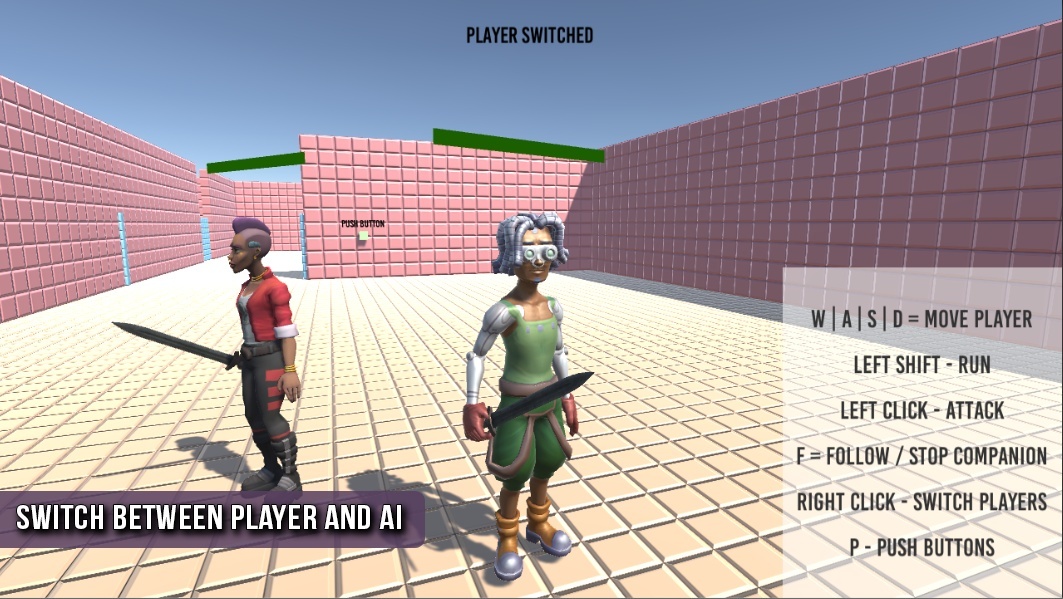 TPCWC - Third Person Controller with Companion v0.1
Awesome Support Guaranteed with Lifetime Free updates!!
Please Play the Demo before making any purchase!(Link below)
------------------------------------------------
TPCWC
is THE ONE OF IT'S OWN kind of Third Person Controller.
Q1 WHY TPCWC?
- It is The Only Controller System with the mechanics of having a Companion with whom you can switch between by just simply pressing a Button.
- Not only Player and Companion AI, TPCWC also contains a basic Enemy AI which can attack both Player and Companion AI and as you guessed it, AI vs AI occurs!
- On top of all of this there are interactions like Pushing Switch and Buttons to open the Door (or trigger any other event).
Your Imagination is your only limitation.
- This template is Ideal for Puzzle / Dungeon / Melee Combat Style Games!
Q2 How hard it is to make a Player / Companion AI / Enemy AI?
- With TPCWC you can create anything within a few seconds like :
- Shift+Alt+P for Player
- Shift+Alt+C for Companion
- Shift+Alt+E for Enemy
- Shift+Alt+W for Weapon
OR you can select it from the drop down menu
- TPCWC Create
All the scripts are commented in the Inspector hence no need to hinder back and forth from Documentation and Unity Editor!
Q3 What are the contents of the Package?
-The Package contains Full Source Code with all the Animators pre made and setup!
- Contains awesome prototypes for you to quickly prototype anything like floor, door, wall, switch, push button.
- However, all the 3D Characters are of Unity's Sample Adventure Project, the weapon used is from Unity's Blacksmith Demo.
All the animations(idle,walk,run,attack,push button,etc) are from Unity Standard Assets and Mixamo.
I recommend downloading them from here before importing this Package into your project because I have already set up the IK Weights in the animations for you!
Google Drive Link
https://drive.google.com/open?id=1PrlyenclO1UoYPftRjjxrns6Tg7EqgMm
How to Import Resources?
https://www.youtube.com/watch?v=J-V0joXFjMs
------------------------------------------------
Please visit the
Forum Thread
for more information.
Unity Forum Thread
If you are stuck at any point, please watch the
Video Tutorials
for a better understanding!
https://www.youtube.com/playlist?list=PLmsjo7zubHe6hFqELbr0Fva8EF4uJQ6YP
Want to know the insights before making a purchase, please see the
Documentation
!
https://drive.google.com/open?id=1aO7HrT8VwjL7ttJuPKNmQyclsTTHYc0w
Want to try before buy, please play the
PC Demo
from below!
https://drive.google.com/open?id=1FTV0WM6DGfmNEqMO-MPqHdhaK8dtDfBM
Got something to say, throw me an email at
[email protected]
NOTE : This is a template and not a full game!
Hence, if you want to make a FULL GAME you have to get a few of your own resources lol :P
------------------------------------------------
My other Assets :
- Tired of making a Main Menu for your game, try our awesome
Easy Main Menu
filled with tons of content!
Sellfy : https://sellfy.com/p/5ujr/Asset Store : https://www.assetstore.unity3d.com/#!/content/98746
- Don't worry anymore about managing Audio in your game with our
Easy Audio Utility!
Sellfy :
https://sellfy.com/p/qsYJ/
Asset Store : 
https://assetstore.unity.com/packages/tools/audio/easy-audio-utility-98143
You'll get a 874.0KB .UNITYPACKAGE file.
More products from walledcityinfotech