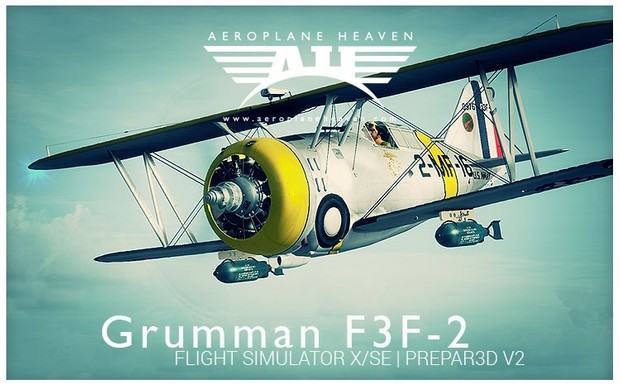 Aeroplaneheaven Grumman F3f-2 Add-on
Grumman F3F-2 for Flight simulator x/Steam edition and compatible with Prepar3d V2.0.
The Grumman F3F-2 is an aviation legend and very close to our hearts as it was one of the first simulations we built over 14 years ago.
This is the re-incarnation of that first product with a modern twist. All the bells and whistles of today's generation of simulation technology, combined with the classic style of the "Flying Barrel" bring a fresh, new look to classic warbird flying in FSX,SE and P3DV2. Packed with unique features, this one will delight the vintage warbird enthusiast.
This important US between-the-wars carrier borne fighter is easy to fly, responsive and fast and into the bargain, you get all the challenges of carrier operations.
Youtube link :
https://www.youtube.com/watch?v=UE7xo8IyFIQ
HI-FIDELITY MODELS
- All new hi-fidelity models with superb detail including modelled rivets and overlapping panels.
- Beautifully detailed 9-cyclinder Wright Cyclone engine.
- Brilliant stereo sound pack includes the "stutter-start"of the big Cyclone radial.
- Many unique animations include vibrating exhausts and authentic gear retraction.
- Full, animated cockpit in exterior model.
- Cockpit sounds such as switches, knobs and levers.
- Sunsplinter effects on Perspex.
N-GAME OPTIONS
- Special configuration panel to show bomb trolley, remove pilot and adjust seat positions.
- Choice of electric or cartridge starts.
6 LIVERIES AND A PAINTKIT
- Six high definition livery sets with special metal and bump effects.
- Easy-to-use Pro-quality paintkit to make your own schemes.
Package includes :
- 6 Liveries
- Paintkit ( available in the zip )
- Flight manual.pdf
Technical Requirements.
Windows XP SP3 , Vista , 7, 8
FSX SP2/Acceleration pack/Steam
Prepar3d V2 (compatible)
Ram : Minimum 2 + GB RAM
Hard drive : 450 MB
Please note there is not a 2d panel supplied for this aircraft.
You'll get 1 file (339.8MB)
More products from Aeroplane Heaven