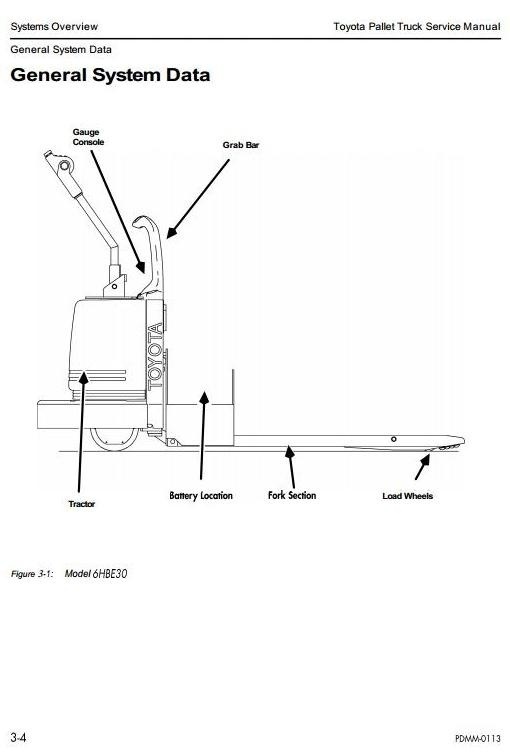 Toyota Truck 6HBC30, 6HBC40, 6HBE30, 6HBE40, 6HBW30, 6TB50 SN:24000-26999 Service Manual
Original Illustrated Factory Workshop Service Manual for Toyota Electric Pallet Truck Type 6HBW.

Original factory manuals for Toyota (BT) Forclift Trucks, contains high quality images, circuit diagrams and instructions to help you to operate, maintenance and repair your truck. All Manuals Printable, contains Searchable Text and Navigation Bookmarks

Covered models:
6HBC30 sn:24000-26999
6HBC40 sn:24000-26999
6HBE30 sn:24000-26999
6HBE40 sn:24000-26999
6HBW30 sn:24000-26999
6TB50 sn:24000-26999

Format: PDF, 258 Pages
Language: English

Contents:
How to Use This Manual
Map of the Manual
Manual Design
START Page
Safety
Definitions
General Safety
Battery Safety
Static Safety
Jacking Safety
Tie-down for Transport
Towing
Welding Safety
Systems Overview
Truck Model Identification
Vehicle Specifications
General System Data
Programmable Maintenance Tool
Theory of Operation
Freezer Curtain Bypass
Lift/Lower
Scheduled Maintenance
Introduction
Maintenance Guidelines
General Truck Operation
Perform Daily or Every Eight (8) Operating Hours
Perform Every Two Months or 250 Operating Hours
Perform Annually or Every 2000 Operating Hours
Lubrication Points
Troubleshooting
How to Use This Chapter
Electrical Troubleshooting Guidelines
Checking for Shorts from Battery to Truck Frame
Checking for Shorts from Components to Truck Frame
Hydraulic Troubleshooting Guidelines
Definitions
Electrical Connector Locator Chart
Fault Codes
Programmable Maintenance Tool
Diagnostic History
Test Mode
Special Program Mode
Programming
Cloning
Pin Descriptions
List of Troubleshooting Charts
Hydraulic Charts
Travel Charts
Wiring Charts
Troubleshooting Flowcharts
Component Procedures
List of Component Procedures
Component Locators
Tractor Cover
Battery
With Battery Gates and Rollers
Battery Gates (Optional)
Battery Rollers (Optional)
Without Battery Gates and Rollers
Battery Exterior Cleaning
Charging
Adding Water
Specific Gravity
Voltage Check
Maintenance-Free Batteries
Storage
Power Cables
Battery/Charger/Truck Connectors
Wiring Harness
Diodes
Fuses
Switches (General)
Key Switch
Deadman Switch
Hydraulic Solenoids
Gauges
Hour Meter
Battery Discharge Meter
Combination Hour/Battery Discharg Meter (2)
Control Handle
Return Spring Adjustment 6HBW30 and 6HBE30 or 6HBE40
Horn
Motor Controller
Emergency Reverse Check
Travel Potentiometer
Contactors
Rabbit Speed (Field Weakening) Contactor
Fonvard/Reverse Travel Contactor
Brake
Models 6HBW30.6HBE306HBE40
Models 6HBC30.6HBC40and 6TB40
MotorsGeneral
Motor Brushes
Motor Brush Spring Tension
Commutator
Terminal Nuts
Electric Motor Tests
Drive Motor
Drive Unit
Tooth Pattern of Drive Unit
Drive Unit Vent Plug
Drive Housing Lubrication
Drive Housing Steering Bearing
Drive Wheel
Casters
Load Wheels
Load WheelsModel 6TB50
Pallet Entry Wheels/Sliders
8000 Lb Models
Fork Height Adjustment
6000 Lb Models
Long-John Models
Lift-Limit Switch
Hydraulic Components
General Guidelines
Hydraulic Fluid
Adjusting Hydraulic Pump Relief Valve Pressure
Relief Valve Settings
Check Valve
Hydraulic Ram
Hydraulic Cylinder Seals
Hydraulic Unit
Hydraulic Reservoir
Filter Screen and Suction Tube
Hydraulic Pump
Lift Motor
General Data
Cold Storage Conditioning
Classes of Cold Storage
Appendix
Lubrication Equivalency Chart
Torque Chart Standard (Ferrous)
Torque Chart Metric
Decimal Equivalent Chart
Standard/Metric Conversions
Electrical Schematics
Index .
You'll get a 11.0MB .PDF file.