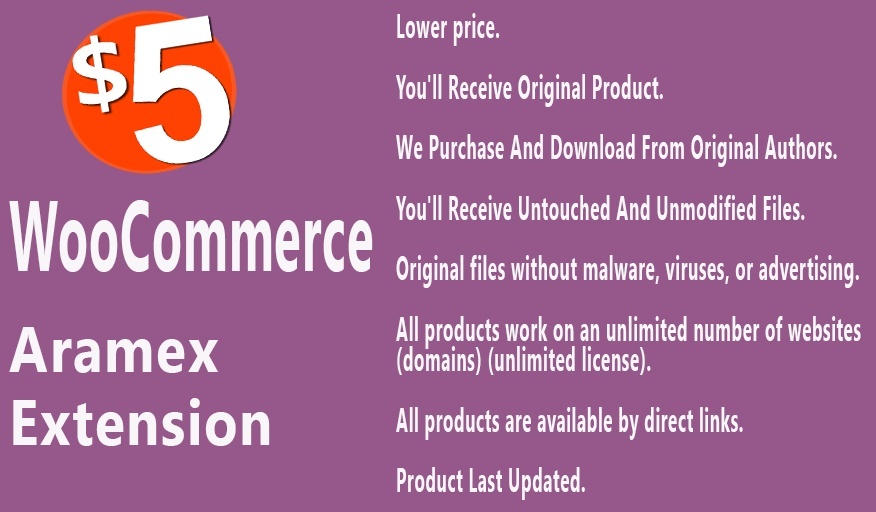 WooCommerce Aramex Extension
WooCommerce Aramex 1.0.7 Extension Extension
---
WooCommerce Aramex Extension Version : 1.0.7

WooCommerce Aramex Extension: Use Aramax shipping company to offer shipping rates to your WooCommerce customers.

---
Exactly the same! This is the EXACT same plugin (Version 1.0.7) being distributed by WooCommerce.com
---
WooCommerce Aramex Extension: Why You Need ItCalculate shipping rates for your customers' orders, using AramexEliminate back-and-forth with your customer, discussing possible shipping rates. With WooCommerce Aramex, you can calculate shipping rates for your customers' orders right on the checkout screen! Using rates provided by Aramex, a leading global provider of logistics and transporation solutions, WooCommerce Aramex helps to save you time when shipping your orders, by calculating the shipping rates up front.WooCommerce Aramex Extension relies on rates provided by Aramex, an international provider of logistics and transportation solutions. You do need an Aramex account to use this Extension.WooCommerce Aramex Extension Features:Aramex offers shipping rates based on a wide variety of parcel types, including:Priority DocumentPriority ParcelPriority LetterDeferred DocumentDeferred ParcelGround DocumentGround Parcel

---
Buy Now============================================You'll get a download link immediately after purchase============================================Lower price.You'll Receive Original Product.We Purchase And Download From Original Authors.You'll Receive Untouched And Unmodified Files.Original files without malware, viruses, or advertising.All products work on an unlimited number of websites (domains) (unlimited license).All products are available by direct links.Product Last Updated.Download WooCommerce Aramex.You'll receive the exact .zip file you would download from the original author. If you buy from here, you can save your money up to 99% and 100% virus free.Viewhttps://woocommerce.com/products/woocommerce-shipping-aramex/
You'll get a 82.8KB .ZIP file.
More products from WooCommerce Plugins Extensions