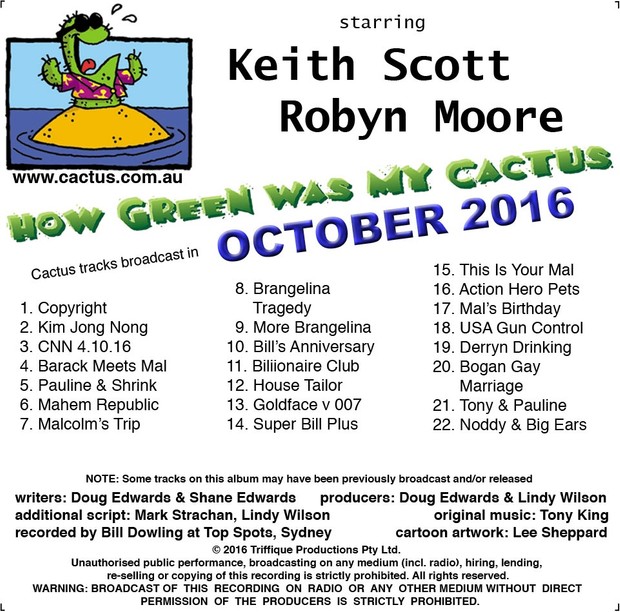 CACTUS - October 2016
DESCRIPTION
CACTUS - OCTOBER 2016
TRACKS
1. Copyright: All material downloaded is copyright.Unauthorised public performance,broadcasting on any medium (including. radio),hiring,lending,re-selling or copying of this recording is strictly prohibited.All rights reserved. ©2016 Triffique Productions Pty Ltd
2. KIM JONG NONG: North Korea's Dear Leader Kim Jong Nong meets our Foreign Affairs Minister Judas Bishop. They discuss Kim's latest nuclear bomb, a big black one with horns.
3. CNN 4.10.16: News, showbiz and sport. The big story: Senator Derryn Livershot explains why he fell asleep during his first week in the Senate - he's a very fast learner. 
4. BARACK MEETS MAL: Mal Talkbull is embarrassed when some hundred dollar notes dangle from his coat pocket and obscure his name tag. Barack O'Bummer mistakes him for Dame Nellie Melba.
5. PAULINE & SHRINK: Eminent psychiatrist Dr Sigmund Sheiserhousen sees a new patient, Senator Pauline Hatful, who won't lie on the couch until the doctor checks underneath for Muslims.
6. MAYHEM REPUBLIC: Political analyst Mark Mayhem gets opinions on a republic from Bill Curly, Julie Token, boxing genius Anthony The Man and One Nation leader Pauline Hatful.
7. MALCOLM'S TRIP: Cactus Island's CEO Mal Talkbull delivers his revealing report to Parliament on his big overseas trip. Revealing because none of his colleagues knew he was gone. 
8. BRANGELINA TRAGEDY: From the international news services of CNN, AAP, ITN and PVC, Chuck Waggoner presents TWIT, The World In Turmoil. Brad and Angelina have split.
9. MORE BRANGELINA: Ex-PM and self-rated historian John Hobbit contributes to the commentary on the breakup of Angelina Jollie and Brad Pitt, or Brad Pot if the rumours are true.
10. BILL'S ANNIVERSARY: It's the anniversary of boring Bill Curly becoming the leader of the Labor Party, October 13th. Albo thinks Bill is so wooden that borers are his only sign of life.
11. BILLIONAIRE CLUB: Taxes are the subject of discussions between 3 mining magnates, Sir Portly Coalrich, Chairman Frackley Orwell and the richest of all, Cruella de Creosote.
12. HOUSE TAILOR: Mal Talkbull explains to Parliament his objection to a Carbon Emissions Trading Scheme while Mr Humphries fits him for a new morning suit.
13. GOLDFACE v 007: James Bond, 007, is on a mission to stop a madman who wants to take over the world. That's right, Goldface, also know as Donald Dump.
14. SUPER BILL PLUS: Super Bill (Curly) confronts Liberal Party's right wingers Tony Abs and Eric A'Putz who want to print a pamphlet advising that all gay people have pimples on their bottom.
15. THIS IS YOUR MAL: Malcolm Talkbull appears on This Is Your Life, revealing his birthplace was a manger at the back of the Intercontinental Hotel in Sydney
16. ACTION HERO PETS: Radio talkback agony uncles Arnie and Sly help a widow by warning her that internet dating sites attract psycho murderers, hence the term computer hackers.
17. MAL'S BIRTHDAY: It's Mal Talkbull's birthday, October 24th. He receives gifts from many of his colleagues, Judas Bishop giving him a crash helmet in case the deficit falls on him.
18. USA GUN CONTROL: President Barack O'Bummer seeks help on gun control from our ex-PM John Hobbit. With so many people getting shot, it seems that even Americans hate Americans. 
19. DERRYN DRINKING: Senators Jacqui Tacky, Mathias Cormanegger, Pauline Hatful and Penny Ping Pong hear Senator Derryn Livershot explain why he fell asleep in Parliament. He's drinking again.
20. BOGAN GAY MARRIAGE: Davo Bogan is shocked to learn that gay men want to get married. Not even he and Shazza were that stupid – they know how to maximise their CentreLink payments. 
21. TONY & PAULINE: Ex-PM Tony Abs apologises for stitching up Pauline Hatful on an electoral fraud charge in 2003. In jail Pauline had big women with tattoos and no teeth sniffing her. 
22. NODDY & BIG EARS: Today's story, kiddies, is called Noddy and Big Ears Buy A Gun. Noddy is the rich one with the big head, and Big Ears if the one with a pair of really red budgie smugglers.

NOTE: TRACKS ON THIS ALBUM MAY HAVE BEEN PREVIOUSLY BROADCAST AND/OR RELEASED.

COPYRIGHT: All tracks and material ©2015 Triffique Productions Pty Ltd. All rights reserved. All material downloaded is copyright. Unauthorised public performance, broadcasting on any medium (including. radio), hiring, lending, re-selling or copying of this recording is strictly prohibited. All rights reserved.
You'll get 1 file (43.8MB)
More products from doug_e