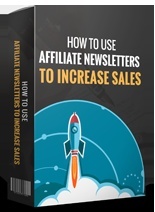 How to Use Affiliate Newsletters to Increase Sales
If you've already got your own affiliate program, are you sending out a regular
newsletter to your affiliates? The only reason not to is the extra time it takes.
But here are the reasons why you do want to send your affiliates a newsletter
on a regular basis!

DOWNLOAD Your Copy Now!
You'll get a 1.4MB .ZIP file.
More products from BestBuy Digital