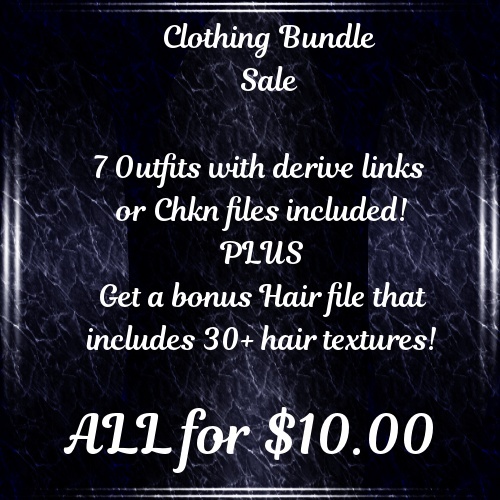 CLOTHING BUNDLE SALE!!! (Catalog upload only!)
Multi Color Dress (
https://sellfy.com/p/Jssl/)-
$1.50
Walking Shoes (
https://sellfy.com/p/7UeY/)-
$1.75
Amor Latex Dress (
https://sellfy.com/p/pIy7/)-
$2.50
Reaper Outfit (
https://sellfy.com/p/OGmG/)-
$2.50
Ice Kitten Bundle (
https://sellfy.com/p/mocQ/)-
$3.00
Viola Bundle (
https://sellfy.com/p/C0jz/)-
$2.50
POW Bundle (
https://sellfy.com/p/6Vyi/)-
$2.50
BONUS HAIR TEXTURE FILE!!!-- FREE!!!! FREE!!!!
Get all of these files in 1 download for $10.00!!
Clothing -- Bundle Pack (Catty Upload only)
Resale Rights by: CandyLynn, Krystelx, AriaAurura
These lovely ladies have granted me resale rights to these items you do NOT have resale rights!
This purchase is simply for upload to catalog only!!!
** There are 8 clothing bundles included in this file **
*~*~* RULES *~*~*
1. Do not share with anyone.
2. Do not use on 2nd account unless you contact me first!
3. For use only on IMVU meshes! **(You MUST use the chkn file included if there is one included)**
4. You are getting a Chkn file for easy upload *(if there are chkn files USE THEM!)*
5. Instruction Sheet will be included in the zip you are receiving to help with your chkn fil.
6. You will also recieve an info sheet for purchasing these files.
If you have any other questions email me at [email protected] or message me on IMVU at PeanutSkye :)
Thank you for your purchase!
P.S - NO VIP DISCOUNT IS OFFERED ON THIS SALE!
Thank You! --Mandy
You'll get a 14.2MB .ZIP file.
More products from Skye Creations