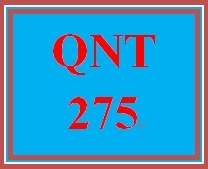 QNT 275 Week 5 Practice: Week 5 Discussion Question 2
Entire Course Link
https://uopcourses.com/
https://plus.google.com/u/0/108200033792883877670/posts/dWT4sDYbQKM
 QNT 275 Week 5 Practice: Week 5 Discussion Question 2
Respond to this week's discussion question posted by your instructor.
Post your response in the discussion area.
What Waits Beyond?
Hello Everyone,
It is great to see you cross the finish line within the next few days!  Congratulations to all for your motivation and hard work over the past five weeks.  Now that you've had opportunity to work with Excel, what do you think about letting the software take care of the computations?  Good luck to all of you as you wrap up the course. 
You'll get 1 file (35.0KB)
More products from UopTutorials