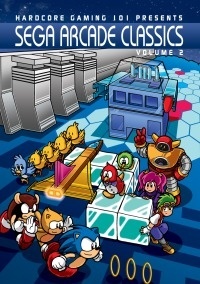 Hardcore Gaming 101 Presents: Sega Arcade Classics Vol. 2
Get ready to re-enter the world of Sega! The long-awaited Sega Arcade Classics Vol. 2 delves deep into the vaults of Sega's most obscure titles, running from the late 70s and their discrete logic boards, though the games released on the 2D powerhouse System 32 arcade board. Covered games include golden era arcade classics like Pengo, Zaxxon, Congo Bongo, and Flicky; their racing titles, ranging from their classics like Monaco GP and Turbo, up through Hang-On and Rad Mobile; beat-em-ups like My Hero and Arabian Fight; the origins of Sega's super scaler line with Subroc 3-D and Buck Rogers and the Planet of Zoom; overlooked classics like Spatter, Ninja Princess, Bonanza Bros., and Aurail; and the long forgotten Sonic the Hedgehog arcade game!
You'll get a 47.7MB .PDF file.