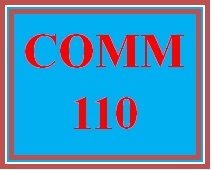 COMM 110 Week 1 Discussion: Electronic Reserve Readings Videos
https://plus.google.com/u/0/108200033792883877670/posts/dWT4sDYbQKM
 COMM 110 Week 1 Discussion: Electronic Reserve Readings Videos  
What did you learn? 
Look at the list of four video clips under the heading "Electronic Reserve Readings Videos"  in the Required section.
Watch the clips and then post, in this discussion string, a 100 word message describing three or more points that interested you.
While this post has its own points and so isn't eligible for participation points too, any responses you make to others on this discussion will count towards participation.
You'll get 1 file (65.5KB)
More products from UopTutorials