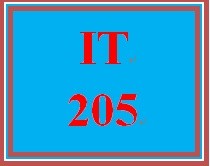 IT 205 Week 5 Individual: Communicating to Management Concerning Information Systems, Part 2
Entire Course Link
https://plus.google.com/u/0/108200033792883877670/posts/dWT4sDYbQKM
 IT 205 Week 5 Individual: Communicating to Management Concerning Information Systems, Part 2 
Resources:   
The "Sample PowerPoint" posted in the Tutorials & Guides section of the Center for Writing Excellence website  
The
Lynda.com
® video "Presentation Fundamentals" with Tatiana Kolovou.  
Create a Microsoft® PowerPoint® presentation containing 6 to 8 slides, including Introduction, Conclusion, and Reference slides. Include speaker notes with each slide.
Scenario: You are on your second interview for a position in an Information Services Department. You will be presenting to a group of your peers so they can see if you have good presentation skills. Your task is to:   
State why CRM is important to Enterprise Resource Planning (ERP)  
Compare planning systems using traditional ERP and planning systems that will employ cloud/Software-as-a-Service (SaaS). Provide at least two ways they are different.  
Be sure to include supportive graphics and appropriate backgrounds and styles. All references need to adhere to APA guidelines, and images should not be copied unless author permission is obtained or copyright free images are used.
Submit your assignment using the Assignment Files tab.
You'll get 1 file (322.6KB)