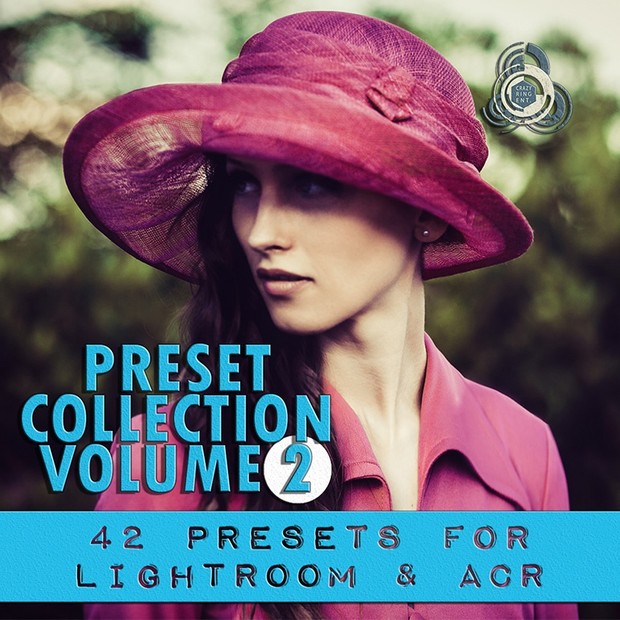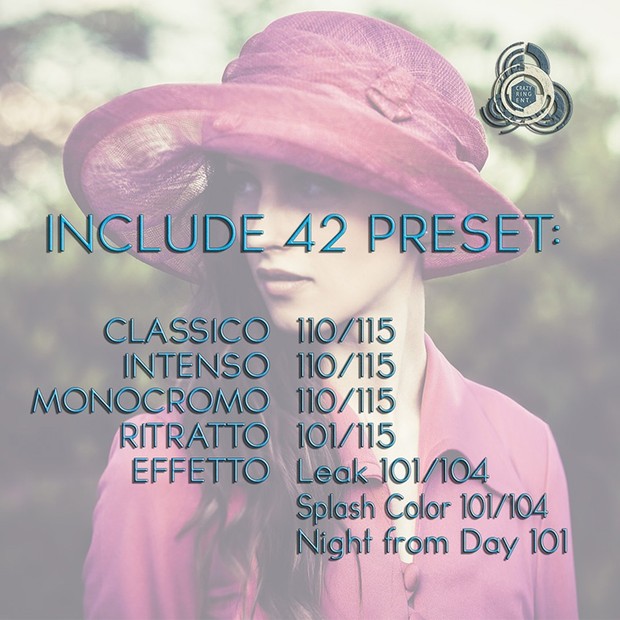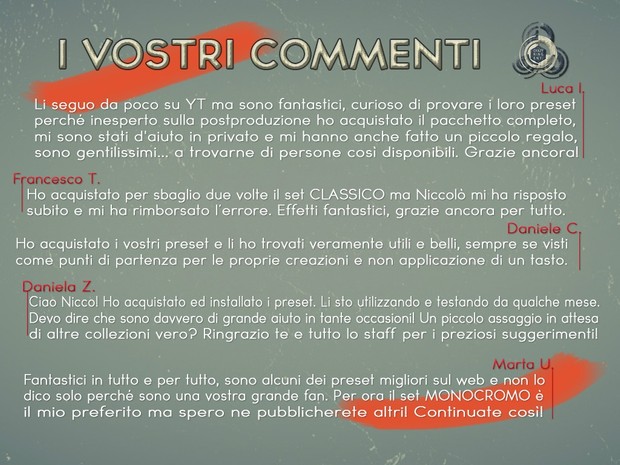 PRESET COLLECTION VOLUME 2 The Crazy Ring Preset - For Lightroom and Camera Raw
Questo è il VOLUME 2 della Crazy Ring PRESET COLLECTION, 42 predefiniti ad un prezzo eccezionale! Crea fantastiche immagini con un solo click! INCLUDE: Il nuovo set RITRATTO 101/115. 110/115 CLASSICO 110/115 INTENSO 110/115 MONOCROMO EFFETTO: 4 Light Leak (solo per lightroom), 4 Splash Color, 1 Night from Day Contiene in tutto 42 presets per Lightroom 4, Lightroom 5, Lightroom CC (6) e Camera Raw. Sia per MAC che per WINDOWS. Puoi comprare i singoli set e il VOLUME 1 contente altri 33 presets qui:
https://sellfy.com/crazyring
Funzionano sia su file RAW che su JPEG e possono essere usati in serie per creare decine di effetti diversi. Si possono anche usare con il filtro Camera Raw contenuto in Photoshop CC!! COME INSTALLARLI: - Estrarre la cartella principale dal file RAR (usate WINRAR, 7ZIP, ecc.) e poi seguite semplicemente le istruzioni contenute nei vari PDF.
___________________________________
This is the VOLUME 2 of the CRAZY RING PRESET COLLECTION for the best price!!! You can now buy just one set here or buy the VOLUME 1 here:
https://sellfy.com/crazyring
Create stunning images with just one click! Featuring: Includes; The NEW set "RITRATTO" 101/115. 110/115 CLASSICO presets for a vintage look! 110/115 INTENSO presets wonderful color images! 110/115 MONOCROMO presets for state of the art black and white images! EFFETTO: 4 SPLASH COLOR preset for selective color effects (red, blue, yellow, green) ! EFFETTO: 1 NIGHT FROM DAY for turning day into night! EFFETTO: 4 LIGHT LEAK preset for light effects! --- FOR LIGHTROOM ONLY ! It contains all the 42 presets for Lightroom 4, Lightroom 5, Lightroom CC (6) and Photoshop Camera Raw. MAC and WINDOWS version. HOW TO INSTALL: - Extract the main folder from the RAR file and follow the instructions in the PDF file. The presets works with RAW and JPEG images and can be used layerd for tons of different effects. It also can be used in the Photoshop CC's "Camera Raw filter"!!
You'll get 1 file (16.3MB)
More products from Crazy Ring Entertainment