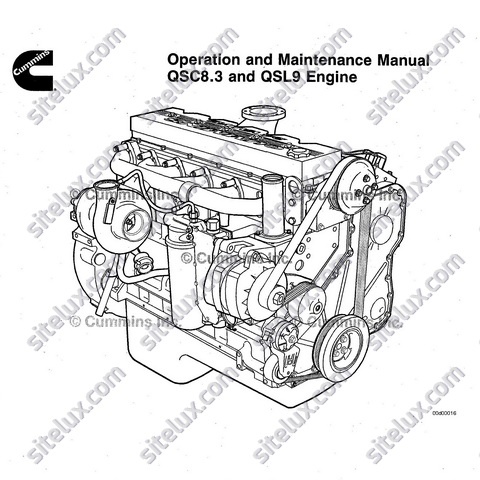 Cummins QSC8.3 and QSL9 Engine Operation and Maintenance Manual
This original manual PDF download describes procedures for operation, handling, lubrication, maintenance, checking, and adjustment for the Cummins QSC8.3 and QSL9 Engine. It will help the operator or anyone realize peak performance through effective, economical and safe machine operation and maintenance.

This manual contains information for the correct operation and maintenance of your Cummins engine. It also includes important safety information, engine and systems specifications, troubleshooting guidelines, and listings of Cummins Authorized Repair Locations and component manufacturers.


---

TABLE OF CONTENTS :

Introduction
Engine Identification
Industrial Features
Operating Instructions
Maintenance Quidelines
Maintenance Procedures at Daily Interval
Maintenance Procedures at 250 Hours or 3 Months
Maintenance Procedures at 500 Hours or 6 Months
Maintenance Procedures at 1000 Hours or 1 Year
Maintenance Procedures at 2000 Hours or 2 Years
Maintenance Procedures at 5000 Hours or 4 Years
Adjustment, Repair, and Replacement
System Diagrams
Service Literature
Component Manufactur.ers
Service Assistance
Troubleshooting Symptoms
Maintenance Specifications
Warranty


---

MANUAL SPECIFICATION :

File Format : PDF
Language : English
Printable : Yes
Searchable : Yes
Product Code : 4021518
Total Pages : 351
You'll get a 22.9MB .PDF file.