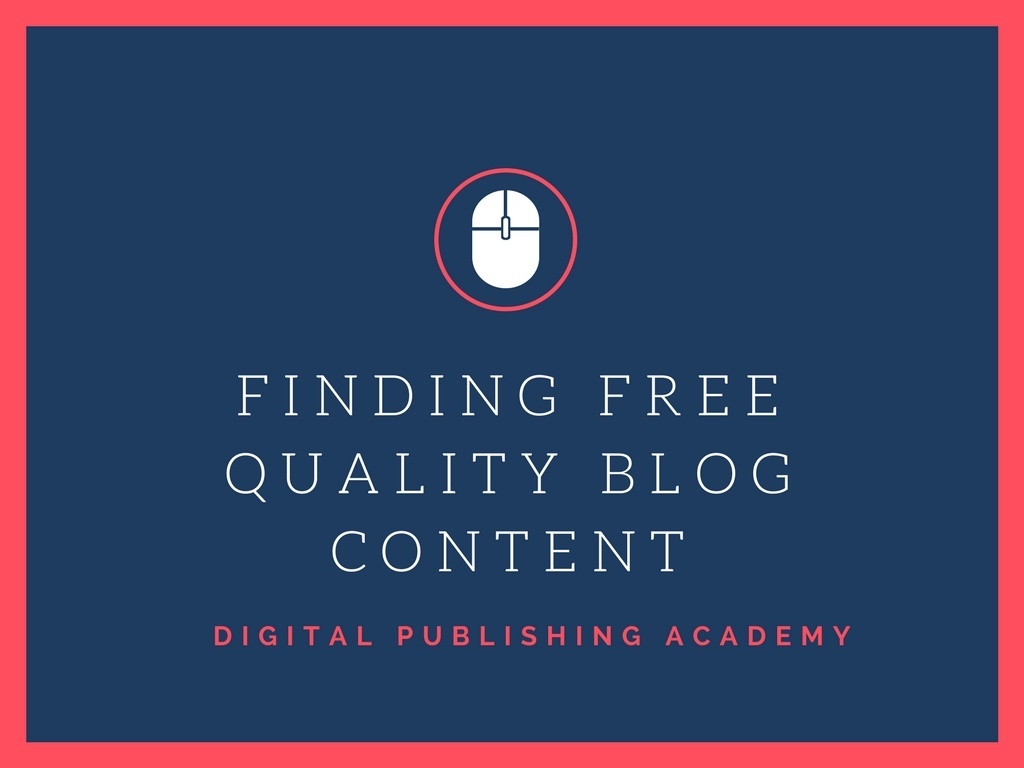 Finding Free Quality Blog Content
Introduction
Blogging is a way to share ones thoughts on a certain topic or topics, to chronicle an experience or connect with others across the globe on a shared interest or passion.
In order to grow an audience, establish a blog as a brand and maintain a presence as a blogger, one will have to consistently blog.
However, many people work or go to school full time or part time and some are actively running a business. They may not have time to blog and may not have the resources to hire someone to create content for them..
Also, even if you do have the time, you may run out of ideas or suffer from writer's block. Getting sources for ideas and content is essential for any blogger.
This Course is For You If You:


Are clueless about where to go to get free quality content to populate your blogs on days you are fresh out of ideas or dont' have time to blog.


Struggle to find time to blog regularly.


Are interested in keeping fresh content on your page but are unsure where to get it from.


Want to keep your blogging voice authentic and unique to your voice, but still wouldn't mind supplementing it with content from other sources.


Would like quick, easy-to-use tips for populating new content on your blog.


You already have a blog presence but want to solidify it further with quality content from other reputable sources in your niche and want to know how to do that legally and for FREE.


Reviews:
"How to Find Quality Blog Content" was excellent: replete with low-cost or free resources that are both user-friendly and easy to integrate into my blog. I'm already thinking about which I'm going to use. Thanks so much for generously sharing all this great information!"
Kim Wei, Founder The Kim Wei website
"I appreciate Jeneba¹s wealth of knowledge. Her teachable style was clear and she was able to convey her lesson in a manner that was easily understandable to
others."
- Andrea H. Evans, Esq.
Intellectual Property Attorney
The Law Firm of Andrea Hence Evans, LLC
Patent, Trademark & Copyright Law
 Your Instructor
JJ Ghatt
CREATOR: Jeneba Jalloh Ghatt
Content Creation & Marketing Expert
She has represented fortune 500 and 100 companies while working as an attorney at a top international law firm earning a six-figure salary before returning to her passion of creating and curating content online as she did in the earliest days of the internet at the University of MD Office of Technology.
Lifestyle parenting blogger, columnist & digital media publisher
As a 20 year online content curator and creator veteran, she is passionate about helping the next generation of digital publishers and online business owners.
To date, Jeneba has founded over a dozen blogs including some award-winning & highly trafficked ones.
She has guest spoken, lectured and adjunct professor taught at:
Yale University Law School;
University of Maryland at College Park, College of Journalism;
Penn State University, College of Telecommunications; and
Georgetown Law Center.
She wants her students to overcome all the hurdles, breakdown barriers to information, learn all the tricks of the trade and get the insights. They don't have to re-invent the wheel and start from scratch.
Jeneba's goal is to edify and enlighten others so they can get to their goals faster and spend less time, money and effort in the process.
ONLINE EXPERT
Jeneba has been recognized by the leading public relations trade media distribution and online press aggregator, Cision, as one of only 25 influencers to follow on Twitter and one of 25 Rich Media influencers to follow on Twitter.
Through her award-winning and highly trafficked websites and their associated social media accounts, Jeneba has gotten content before over70 million readers, viewers, listeners and online consumers.
She's been invited to the White House, the Capitol, product launches, fashion shows and events, and other showcases where top influencers, bloggers, thought leaders and taste makers are exclusively asked to attend.
EXPERIENCED TRAINER/EDUCATOR
Jeneba has made the successful pivot from a 6-figure earning attorney at a top International law firm representing fortune 500 and 100 clients to a digital media company owner and now I show other professionals how to follow a similar path.
CONTENT CREATOR, CURATOR AND MARKETING EXPERT
In her 10 years of experience as a blogger, including a few years as a professional blogger, I have gained tremendous insight on content creation, curation, copy editing, social media marketing, content marketing & promotion, growth hacking, search engine optimization and digital media management.
Her goal is to edify and enlighten others so they can get to their goals faster and spend less time, money and effort in the process.
Students just want the information before going on their own. They don't want any empty promises of riches, just the basic information so they don't have to re-invent the wheel, spend hours of time researching it all and figuring it out on their own and starting from scratch!
raJl
$7
58ba1ef281069b3a25ea9353
You'll get a 168.4MB .MP4 file.
More products from Digital Publishing Academy