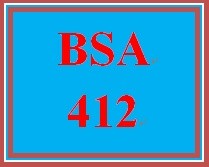 BSA 412 Week 1 Individual Use Case Diagram
BSA 412 Entire Course Link
https://uopcourses.com/category/bsa-412/
BSA 412 Week 1 Individual: Use Case Diagram
Resource: Chapter 2 of Systems Analysis and Design (Kendall & Kendall)
Write a 700- to 1,050-word use case scenario containing at least 12 steps for logging into class and uploading an assignment.
Draw a use case diagram associated with the use case scenario.
Use the UML Model Diagram template within Visio®.
Use Figures 2.14, 2.15, 2.16, and 2.17 in Ch. 2 of Systems Analysis and Design (Kendall & Kendall) as a guide.
Submit your assignment using the Assignment Files tab.
You'll get 1 file (164.0KB)