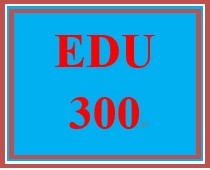 EDU 300 BSED Program Orientation
Entire Course Link
https://uopcourses.com/
https://plus.google.com/u/0/108200033792883877670/posts/dWT4sDYbQKM
EDU 300 BSED Program Orientation 
Watch the "Bachelor of Science in Education Program Orientation" tutorial.
Read the following requirements and expectations of the Teacher Education Program located in the Teacher Education Handbook:   
College of Education Conceptual Framework  
Professional Expectations  
Program Outcomes  
Identify at least two items that must be completed before beginning student teaching.
Explain your strategy to complete these items on time.
You'll get 1 file (32.0KB)