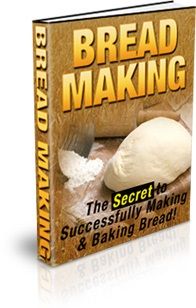 Bread Making (The Secret To Successfully Making and Baking Bread)
Discover How To Surprise Family and Friends With Homemade Bread?

Exclusive Offer!

Never Before Revealed Information!

Homemade Bread the Way it Should be Made!...

Once you get this "Bread Making" guide, you will not just want to make one loaf of bread. In fact, you will want to make more loaves that you won't wait until Thanksgiving or Christmas to do it! This guide is not just for the holidays—you can make homemade bread all year round.

You will discover firsthand how the entire process works. From start to finish, you will be able to transform your baking into the best thing since sliced bread! The cost for this guide is only $17, so you better get on the bandwagon now!

What is stopping you from wanting to bake bread that will just melt from your mouth? Are you scared that it won't come out right again? Are you scared that you'll be embarrassed again? Not with this guide. You get step by step instructions on how to make a masterpiece. All it takes is some determination and will power to make a tasty loaf.

Available in PDF. This guide is for the personal use of the buyer only. It can not be resold.

Note:

This product comes with NO warranty or guarantee of any kind.

The author and distributor hereby disclaim all liability for the use of this product. You accept all responsibility by using/selling it.


P.S. You've got nothing to lose in this investment. You will only miss 100% of the shots you don't take. Don't make the same mistake of those who
close this page and miss out on a tremendous opportunity!
You'll get a 137.0KB .PDF file.
More products from Smart Life Skills