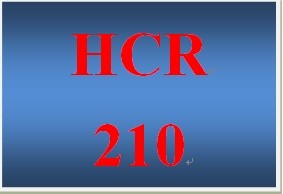 HCR 210 Week 1 Patient Self-Determination Act
HCR 210 Entire Course Link 
https://uopcourses.com/category/hcr-210/
HCR 210 Week 1 Patient Self-Determination Act
Resource: 
Table 1-5 of 
Essentials of Health Information Management: Principles and Practices
Discuss
, in 250 to 300 words, the effect of the Patient Self-Determination Act on health care delivery. Consider how you think records management procedures have had to respond to this piece of legislation.
Submit
 your assignment to your instructor.
You'll get 1 file (14.3KB)
More products from UopTutorialStore