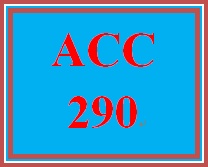 ACC 290 Week 2 participation Financial Accounting, Ch. 3 The Accounting Information System
Entire Course Link
https://zh.scribd.com/document/340327850/Uop-Tutorial
ACC 290 Week 2 participation Financial Accounting, Ch. 3: The Accounting Information System 
Read Ch. 3 of Financial Accounting. 
Consider the following as you read:
In the 1400's, Luca Pacioli, who is known as the father of accounting, introduced the world to a better understanding of accounting and the double entry accounting system through his book, Summa de Arithmetica, Geometria, Proportioni et Proportionalita. Today, the same principles and concepts keep many companies around the world well informed of their financial standing:   
How are business events captured for reporting?  
What is the ultimate purpose of communicating accounting information?
You'll get a 30.5KB .DOC file.