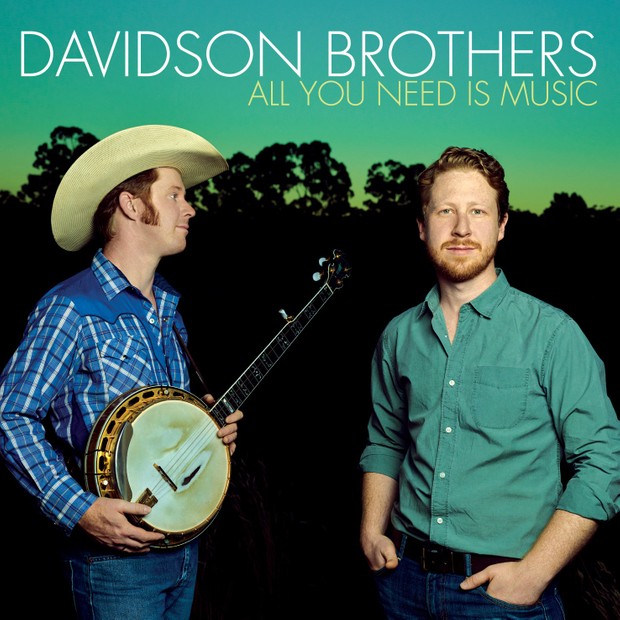 All You Need is Music - MP3s
Purchase includes whole album: 13 MP3s & artwork as PDF

"My brother said, 'You know, we're in our 30s now so we're probably at the peak of our game. We need to record more often so that we've captured it'," Lachlan Davidson (vocals, mandolin) shares.

"We started recording in '98 and we used to try really hard through the majority of our career to break stereotypes," Hamish Davidson (vocals, banjo, fiddle) ponders. "So, like, a good example is not wearing a cowboy hat on the poster out the front of the pub, because if they see that they'll walk straight past the pub. But it's kind of the thing to do now; the hat got dusted off for this album cover. It's my gardening hat," he laughs.

For the All You Need Is Music songwriting sessions, Hamish explains, "We did actually book a B&B over in Benloch in the middle of nowhere and we thought, 'Oh, we're gonna meet halfway'." Hamish is based in Bendigo these days while Lachlan lives in Melbourne. "We got out there and we did actually write [lead single] 'Take A Little Drive' in that first session in Benloch... It was sort of a bluesier thing when we wrote it." When this song was recorded, however, country elements seeped in "and you sorta get the two colours", Hamish observes.

'Take A Little Drive', the first taste of the sibling duo's eighth studio album, was premiered by Henry Wagons during his Tower Of Song show on Double J and the song's jaunty tempo and irresistible chorus melody celebrates "getin' out of town" at the end of the working week with an accompanying video that sees the Davidson Brothers and pals jamming on a porch.

"I was probably a big part of encouraging my brother to do an album that's not straight bluegrass," Hamish allows of All You Need Is Music. "Lachie started touring with Lee Kernaghan in 2003 – I got the call, but I just got into uni so I handballed the gig to Lachie, and held the phone up when he played the fiddle and did his audition over the phone. But he ended up touring with Lee for two years, and I did a lot of session work with lots of other country singers, and I think we just sorta got used to being the bluegrass sound in a country band."

"I didn't wanna do a full record just country, 'cause I feel like we're getting better at bluegrass after touring so hard and doin' it live." Lachlan admits. "So we decided to do an A- and a B-side concept."

At the end of 2016, with Hamish about to become a dad for the second time, Lachlan points out, "We didn't wanna stall an album even longer". So when he clocked Qantas were having a "big sale" ("I think it was 500 bucks each, return, to Nashville"), he immediately got on the blower to his brother. "I rang [Hamish] and pretty much that night he said, 'Yep, I'll do it!' And then I just rang the studio."

After booking Nashville's Sidekick Sound Studios, the pair rounded up some hot players to work with alongside producers/previous collaborators Mark Thornton and Larry Marrs. "Mark Thornton's a different cat," Hamish offers. "He comes from the Jerry Reed school of musicians – he played in Jerrry's band for 12 years – and his studio, it's like going back in a time machine... RCA mics and they've even got an RCA stove in the studio, so we were cookin' lunch on that in between doin' dubs and things. And he's got gear that used to belong to, like, legends and it's got their names with little dymo labels on the mics and things - all of these guys have gone now, but it's kinda cool."

"Mark's got some of Chet Atkins' old gear in there... he's got his old tape recorder that he used to record demos on," Lachlan marvels, "on his porch."

"And our other producer Larry Mars is also a little bit intimidating if you know his past... We had to do something at Larry's studio one night and there was a picture of Larry singing with Merle Haggard on his dunny door and [Lachlan] goes, 'Oh, Larry, about that photo with you and Marty Stuart and Merle Haggard,' and he goes, 'Oh, ain't that kewl!'" Hamish cracks up. "He just never mentioned it, you know?" Lachlan contributes, "They record old-school style, like, old mics from the Grand Ole Opry and stuff, and we just cut everything live." Because "all the great session guys respect those guys", the Davidson Brothers were able to "pretty much book [their] first-choice musicians" for these sessions, Lachlan stresses. "Bryan Sutton's one of the top bluegrass guitar players. He grew up in North Carolina, but he's done, like, Dolly Parton bluegrass records and the Dixie Chicks stuff. "The guy that played percussion [Kenny Malone], he's 76; he played at JFK's inauguration and funeral."

Hamish divulges, "We actually find that the songwriting doesn't really start happening until we know who's recording on it. So every time we've recorded, we've written for the band that we've got, basically. So we know their strengths and we write to their strengths... We've got all their solo records and you're like, 'Oh, I love that thing he does on that track, let's find a way to get him to do it on our album'... We're playing with the best musos in the world, in our field."

All You Need Is Music is the fifth record the brothers have recorded in Nashville and Lachlan recounts, "Our Nan lent us money for our first album, when we were teenagers, and then a banjo player lent us some money, he was a truck driver [laughs]. He wanted us to go to Nashville and make our first record, and so he lent us a wad of cash at a truck stop... But we've always had people who have supported us in that way."

One of the album tracks, 'Evelyn's Kitchen', is in fact dedicated to their late grandmother, Lachlan reveals. "She had a big record collection, but she introduced us to stuff, like, as soon as we started learning violin she pretty much guided us towards the country records that had fiddle on 'em... She used to bring a big tape recorder to our gigs and she'd just record every gig she ever came to.

"I feel like she was probably a big driver for us to win a Golden Guitar, 'cause Tamworth meant the most to her out of everyone in the family," he con??nues (in fact Davidson Brothers have been awarded three of these prestigious Australian Country Music Awards to date). Nan must've been smiling proudly down on her grandsons in January when the Davidson Brothers added their hand prints to the Hands Of Fame monument during the Tamworth Country Music Festival, further cementing their status among the most influential artists in Australian music history.

When asked to single out a song from All You Need Is Love that particularly strikes a chord with him, Hamish offers, "Pending Arrival was really special, 'cause I wrote that before our eldest son was born and we were expecting our youngest when we were recording it and, yeah! I was getting pretty emotional when we were recording it and my bow was gettin' a bit shakey, and I just pulled it together. And then we got through it and I thought, 'Oh, man, I should redo that fiddle'. And it was like, 'Wait a minute, maybe people might sense the emotion and maybe we'll just leave it?' So we just left it."

After performing at Meredith Music Festival in 2013, Lachlan says he's noticed the Davidson Brothers attract a more diverse audience these days, which inspired them to take a "broader approach" on their latest record. "We didn't wanna turn off the people who were enjoying what we've been doing at our live shows, but then we wanted to step it up a level, 'cause we kept the upright bass instead of the electric bass to keep that acoustic feel in there. And the drummer's not an intense Dave Grohl kinda drummer," he laughs.

"If you ask me, all you need is music/And a little red wine/To have a good time." And if said music just so happens to be All You Need Is Music by the Davidson Brothers? Then those good times are guaranteed.
You'll get 1 file (134.7MB)
More products from Davidson Brothers