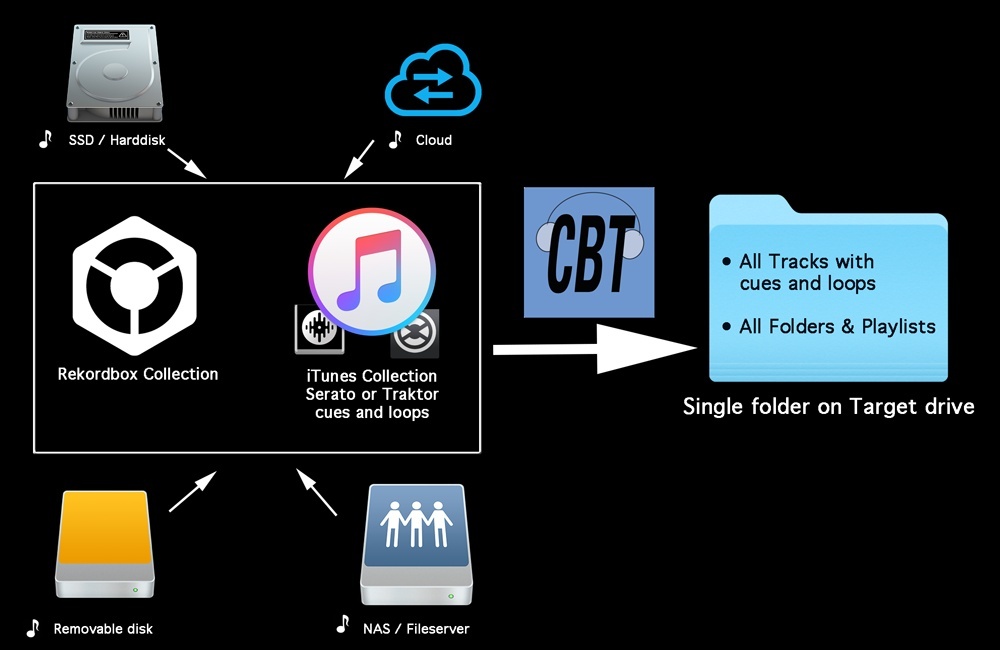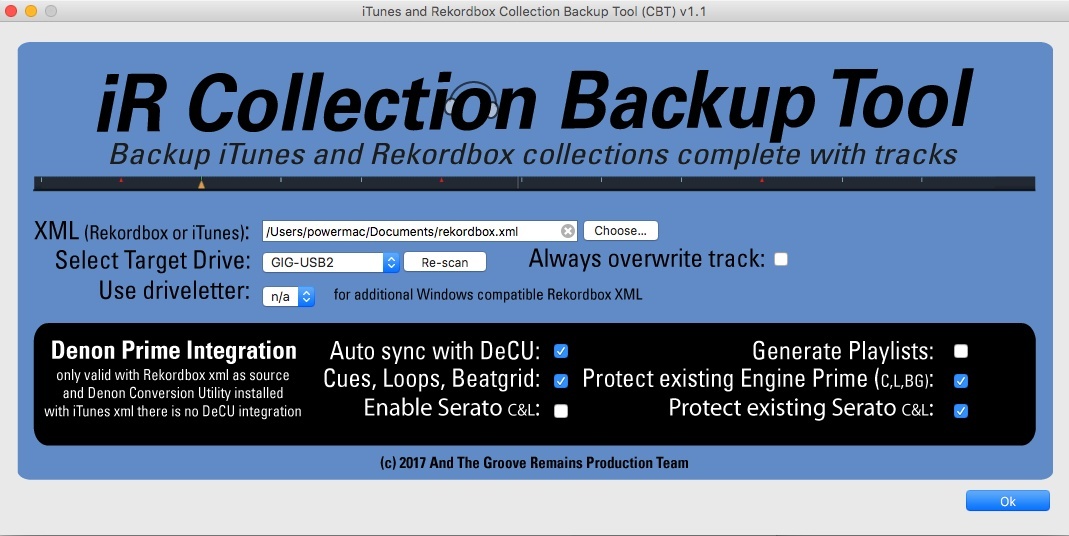 iTunes Rekordbox Collection Backup Tool for MacOS
Fully compatible with Rekordbox 5.1.1 and  MacOS High Sierra.
Current version 1.54 as off January 26th 2018
If you got problems with the processing of your paypal payment then contact me!
iR Collection Backup Tool (CBT), formerly known as the Rekordbox Track Backup Tool collects all the tracks that are part of your Rekordbox or iTunes collection and concentrate them into a single containing folder on the disk you chose. It doesn't matter if your tracks are scattered over several different disks or even on cloud drives or file servers. If the Macos is able read them then CBT can back them up.
But there is more...
CBT creates a so called "Rekordbox.xml" or "iTunes Music Library.xml" file on the target disk. This XML-file is an identical representation of your collection, including folders/playlists and when it comes to Rekordbox even cue's, loops etc. If you plug that drive into someone else's computer and you point his Rekordbox to the XML-file then you'll have access to your entire Rekordbox or iTunes collection as it is on your computer in addition to that computer's normal Rekordbox collection. This access is quarantined from the normal collection and it is temporary, the moment you unmount the disk your collection is gone from that Rekordbox. But while it is there, you can created USBs for use on CDJS etc.
And even more...
Because not everyone is on MacOS there is a tiny little app installed on the CBT drive that will convert the default (MacOS compatible) Rekordbox.XML to one you can use with Rekordbox for Windows. So yes you can now collaborate with your fellow DJ's on their hardware. And have a safety net in case things go wrong with your own hardware all in one.
And now for the Grant Finale:
If the target drive is correctly formatted (exFAT MBR) then it can be used with either Denon's Engine Prime for MacOS or Windows as well as plugged into the Denon SC5000 mediaplayer directly. All you need to do is run the Denon Conversion Utility on the "Rekordbox.xml" or the "iTunes Music Library.xml"on the target drive. A procedure that is fully automated due to CBT's Prime integration Settings.
The drive remains fully usable in Rekordbox as well.
This brings your entire Rekordbox or iTunes collection to the Denon platform with folders/playlists translated into nested crates, cues and loops in tact.
But there are much more reasons why you want to use the CBT DeCU combo to manage your Denon Prime track collection:
No need to spend any time in Engine Prime. EP is only used to read the track's tags and to analyze the tracks. You don't have to spend a second in it to do collection management. That is all done in Rekordbox.
No more annoying duplicates in your collection and things that don't make (much) sense.
No more restrictions on the drive where the tracks are stored.
All tracks are imported no restrictions on the amount of tracks in a playlist and/or tracks mysteriously not being imported resulting in incomplete playlists.
Automatically translate your folder/playlist structure to Engine Prime's nested crates. EP only supports flat playlists so this keeps your collection uncluttered and as clear as it is in Rekordbox/iTunes.
No risk of wiping out all cues and loops you set in Engine Prime when you import/update your Serato cues.
No need to prepare separate USB's the disk is both the USB and the Collection all in one.
Easy to backup just one disk instead of creating/backing up and keeping track of lots of separate USB's.
Very fast to add or modify tracks in your collection after the initial set up is done.
No need to remember which playlists need to be updated.
The tracks in your Rekordbox collection are completely separated from the tracks used in your Prime collection. And you have a fully functional Rekordbox track backup as an added bonus.
CBT will only copy those tracks that are not part of the target drive or have a newer modification date. The first run can take a long time depending on the size of your Rekordbox collection and the capabilities of your hardware. But once the initial run has finished maintaining the back-up will be quick.
Known limitations
iRCBT only works on UTF8 character sets. Extended characters sets in UTF16 are not supported.
Download to manual here:
https://www.dropbox.com/s/igu8s9518fzj8j0/iR%20Collection%20Backup%20Tool%20manual.pdf?dl=1
The catalog of our DJ apps:
https://www.dropbox.com/s/0gl2jrw5cjfl5q4/Product%20flyers.pdf?dl=1
IMPORTANT
:


MacOS only (no refund to windows users who accidently buy this app!)


fully compatible with MacOS from version 10.9 upto to MacOS 10.13 (High Sierra)


fully compatible with Rekordbox 5.2


You'll get a 15.4MB .ZIP file.
More products from And The Groove Remains Production Team