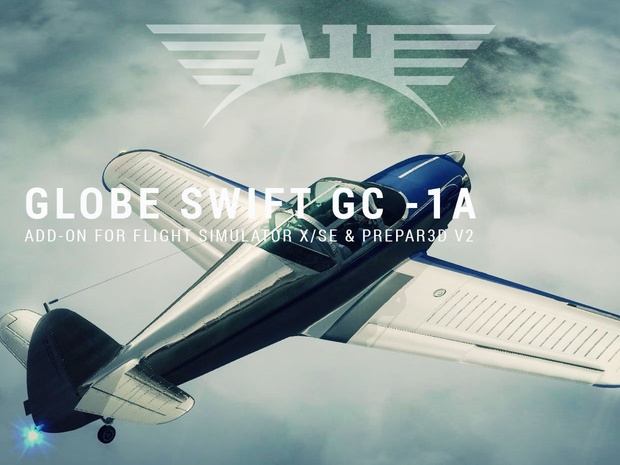 Aeroplaneheaven Globe Swift Add-on
Globe Swift GC-1A for Flight simulator x/Steam edition and compatible with Prepar3d V2.0.

This model is based on the original "A" version.
In game options
In game tutorial and tips system. In game options allow you to choose from 4 different pilots and copilots remove VC glass and gauge glass as well as interact with simulator specific functions. All from the comfort of the pilots seat.

12 Liveries 1 paintkit
Custom sounds and 3d modelled needles ensure accuracy and smoothness. With lovely flight characteristics that will ensure that even the most novice flight simulator user will have a smile on his or her face

Game friendly
We get it. It seems that you need a university degree now a days to operate the television. The great thing about focussing on this aircraft... no computers. If it cant be fixed by a piece of tape and a spoon* you wont find it here. ( *tape and spoon not included )

Features.
- Globe swift specific collins Radios ( NAV1 , COM1 and ADF1 )
- Custom hide-able autopilot control ( easy to use for those longer flights )
- Custom options clipboard with the following options :
-- Pilots positions
-- Choice of pilots ( choose 1 or 2 from a roster of 4 )
-- Hide-able cockpit glass
-- Hide-able gauge glass
-- Innovative tutorial mode with Cold start functionality
-- Stock Sim icons.
-- Quickstart start list and tips and tricks.
-- Equation for lift is included.
- Separate controllable gauge lighting.
- 2k maps for a wonderful balance on resolution and frame rates.
- Original swift custom sounds.

Package includes :
- 12 Liveries ( 1 blank painted texture and 1 blank chrome texture )
- Paintkit ( downloadable from Aeroplaneheaven )
- 2 very different models ( chrome and painted ) for a better representation of this iconic aircraft.
- Cockpit guide.pdf
- Flight manual.pdf

Technical Requirements.
Windows XP SP3 , Vista , 7, 8
FSX SP2/Acceleration pack/Steam
Prepar3d V2 (compatible)
Ram : Minimum 2 + GB RAM
Hard drive : 450 MB

Please note there is not a 2d panel supplied for this aircraft.

You'll get 1 file (281.1MB)
More products from Aeroplane Heaven