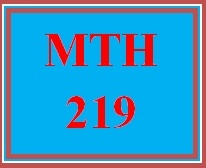 MTH 219 Week 1 Introductory & Intermediate Algebra for College Students, Ch. 1, Sections 1.1, 1.4, &
Entire Course Link
https://zh.scribd.com/document/340327850/Uop-Tutorial
 MTH 219 Week 1 Introductory & Intermediate Algebra for College Students, Ch. 1, Sections 1.1, 1.4, & 1.8: Introduction to Algebra: Variables and Mathematical Models 
Learning Mathematics is like learning a new language. In this chapter you learn how to use the English language to write equations and expressions. Once you have gotten the hang of using English words to translate into mathematics you will check to see if a given number is the answer to a problem.
Your Ch. 1 reading also supports your Week 1 MyMathLab® assignment. The reading provides you step by step examples in case you get stuck or lost in MyMathLab®.
You'll get a 32.0KB .DOC file.