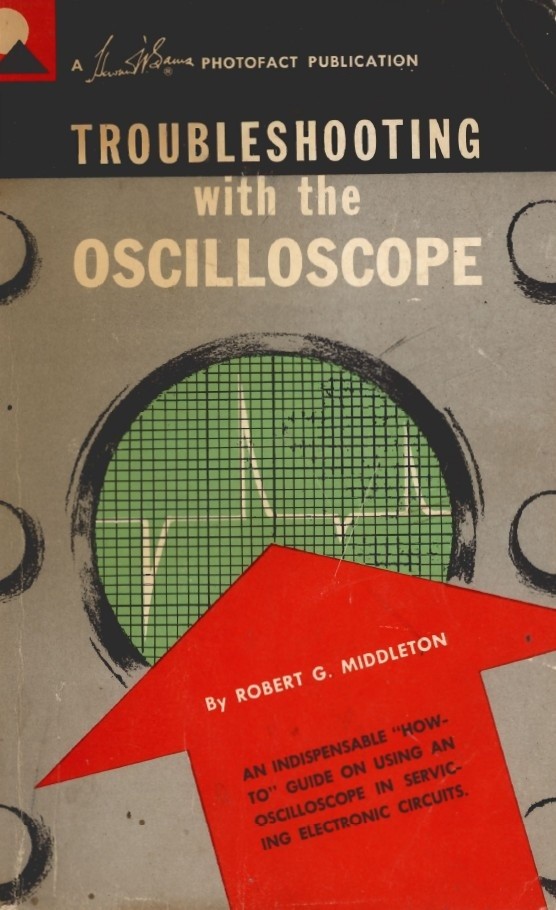 Troubleshooting with the Oscilloscope by Robert G. Middleton (1962)
"Troubleshooting with the Oscilloscope" by Robert G. Middleton (1962, 162 pages).

An indispensable "How To" guide on using an oscilloscope in servicing electronic circuits.

CONTENTS

Chapter 1 – How to Operate an Oscilloscope
Chapter 2 – Using Oscilloscope Probes
Chapter 3 – Signal Tracing in RF, IF, and Video Amplifiers
Chapter 4 – Signal Tracing in the Sync Section
Chapter 5 – Troubleshooting the AFC and Horizontal-Oscillator Section
Chapter 6 – Waveform Tests in the Horizontal-Sweep Section
Chapter 7 – Troubleshooting the Vertical-Sweep Section
Chapter 8 – Signal-Tracing the Sound and Audio Section
Chapter 9 – Troubleshooting Power Supplies
Chapter 10 – Radio-Receiver Troubleshooting
Chapter 11 – Testing Audio Amplifiers

The original book was scanned and converted into this digital book in Adobe Acrobat .pdf format.  In order to view this file you will need to have Adobe Acrobat Reader installed on your computer.
You'll get 1 file (2.4MB)
More products from West Coast ePub Depot