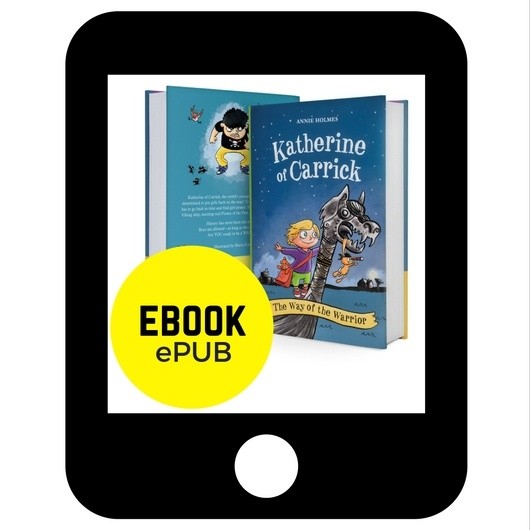 eBook - epub - Katherine of Carrick
Katherine of Carrick is the world's youngest history detective, and she's determined to put girls back on the map!
Every day is a challenge for Katherine. She is a WORRIER. Faced with her greatest challenge of all - a new home in a strange place - Katherine has to stand her ground against Sammy the Bull.
Having made a bet to stop Sammy and the Terribles from taking over her garden, Katherine has no choice but to go back in time and find GIRL pirates.
With help from Methuselah, the giant mystical tree, and her new friends at Carrickfergus Castle, Katherine sails the high seas on a Viking ship, meeting real Pirates of the Past in her quest for the truth.
Can she save the garden and its creatures? Will she learn the Way of the Warrior? Or will she be a WORRIER forever? Katherine and her friends discover secrets, legends and hidden truths, and life in Carrickfergus will never be the same again.
History has never been this much fun! Boys are allowed - as long as they can keep up... 
Are YOU ready to be a WARRIOR?
LOOK INSIDE
- 
http://www.book2look.com/book/9780992981907
ISBN
978-0-9929819-1-4
License Agreement
Please read this End User License Agreement ("Agreement") carefully before downloading and/or using (listening and reading) to the audiobook and/or ebook ("Digital Product/s").
By downloading or using the Digital Product/s, you are agreeing to be bound by the terms and conditions of this Agreement. If you do not agree to the terms of this Agreement, and do not download or use the Digital Product/s.
License
ProjectPublish Ltd. grants you a revocable, nonexclusive, non-transferable, limited license to download, install and use the Application solely for your personal, non-commercial purposes strictly in accordance with the terms of this Agreement.
Restrictions
You agree not to, and you will not permit others to:
a) license, sell, rent, lease, assign, distribute, transmit, host, outsource, disclose or otherwise commercially exploit the Application or make the Application available to any third party.
b) store or use the Digital Product on more than 3 personal devices (PC/Laptop, tablet and/or mobile phone)
You'll get 1 file (13.3MB)
More products from ProjectPublish Ltd