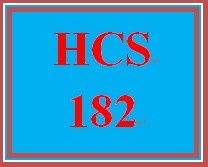 HCS 182 Week 3 Signature Assignment Front Office Employee Training, Part 1
HCS 182 Entire Course Link
https://uopcourses.com/category/hcs-182/
HCS 182 Week 3 Signature Assignment: Front Office Employee Training, Part 1
Health care administrators, managers, medical office administrative assistants, and coders need to be familiar with the medical business office operation and what factors have an impact on the daily operations of a medical facility.
Imagine you work for a consulting company and have been asked by a medical outpatient office (such as a family practice or specialty office) to conduct two training sessions for new front office employees. Many of the new staff are also new to health care. The first session will be about "Front Office Business Procedures".
Create a 7- to 9-slide Microsoft® PowerPoint® presentation with detailed speaker notes in which you discuss the following:
Identify sources of health care revenue.
Compare insurance structures.
Identify rules and regulations governing patient billing.
Identify processes associated with the medical revenue cycle.
Format your presentation according to APA guidelines.
Cite 2 peer-reviewed, scholarly, or similar references to support your presentation. All references should be in APA format within your speaker notes and at the end of your presentation. You should also cite any graphics from other sources used in your slides.
Click the Assignment Files tab to submit your assignment.
You'll get 1 file (1.9MB)