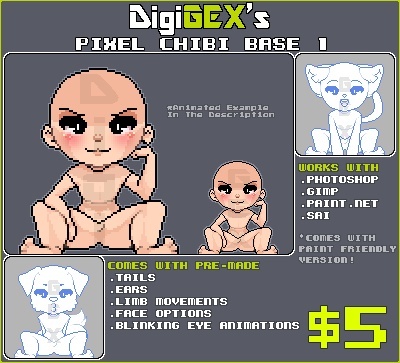 DigiGEXs Pixel Chibi Base 1
『ᑭ2ᑌ ᗷᗩSE』
⇢ This was part of a commission for Skiddo for 3 bases! They will get it for free but it's for sale for everyone else! :D
✘ ᑭᖇIᑕE ✘
$5
✘ ᑕOᗰES ᗯITᕼ ✘
➤Pre-made tails, ears, face/muzzles, changeable arms, and ANIMATED eyes!
✘ ᖇᑌᒪES ✘
➤These can be used for anything
➤You may edit a n y t h i n g you want and (of course) draw your own parts!
➤You may take commissions on these! (Money or dA Points, etc. Just leave credit!)
➤Please Credit me in the description linking back to this (and leave a link in the comments here if you want! I'd love to see it)
➤Don't re-upload this base and re-sell it
✘ ᗪOᗯᑎᒪOᗩᗪ IᑎᑕᒪᑌᗪES ✘
➤.PSD (For photoshop, sai, gimp, etc.)
➤.PNG (Paint Friendly)
Enjoy~
►【CLICK HERE FOR ANIMATED EXAMPLE】◄
https://orig00.deviantart.net/4bda/f/2017/002/6/1/example_by_digigex-datzp7i.gif
---
►ᗩᖇT ©
DigiGEX / Me
DISCLAIMER
Please DO NOT Copy, modify, redistribute, claim, edit or trace my art in any way! (Except in this case if you purchase it... Where it's a base LOL)
You'll get a 64.2KB .ZIP file.
More products from DigiGEX