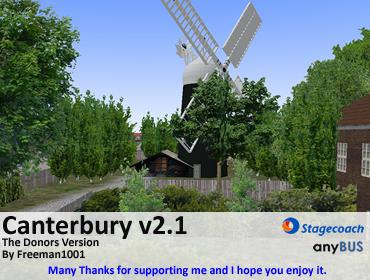 Canterbury Donors for OMSI 1 & 2
Website:
www.omsizone.co.uk
|| Contact me via my email upon sale.
Welcome to the fabulous district of Canterbury, including Herne Bay with its beautiful beach fronts and the surrounding Countryside. You will fall in love with our invigorating coastline, our soothing countryside and our breathtaking heritage and culture. After all, Canterbury is simply inspirational. This map has been created with a high level of detail and accuracy. Routes: 4 - Herne Bay Station To Canterbury City Centre 6 - Canterbury City Centre to Herne Bay Station or bus depot 23 - Canterbury City Centre to Spring Lane Estate PR1 - Canterbury City Centre to Park and Ride Terminus PR2 - Park and Ride Terminus to Canterbury City Centre Nights and Sundays Only 4S - Sturry Station to Canterbury City Centre 6S - Canterbury City Centre to Sturry Station Please refer to the interior documentation for the IBIS numbers. Many thanks for your donation, its very much appreciated. I am now working on an update for this map which will include a new route from Canterbury City Centre to Kent University - the UniBus Route. Please bare with me as I want to provide as high quality as possible so it will take some time. If you have any issues with the map please visit my website to download possible missing files or otherwise contact me via my email.
You'll get a 193.2MB .RAR file.