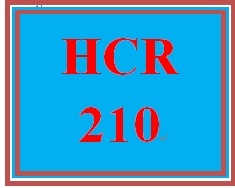 HCR 210 Week 6 Record Organization
HCR 210 Entire Course Link 
https://uopcourses.com/category/hcr-210/
HCR 210 Week 6 Record Organization
Resources:
 Ch. 7 of 
Essentials of Health Information Management 
and the Week 3 Individual assignment.
Review 
questions 4 and 5 from your "
Office Comparison Interviews
" assignment and from at least one of your classmates.
Write
 a 250-300 word response to the following:


What conclusions can you draw about similarities and differences in the organization of patient files and the handling of loose reports within small, medium, and large facilities? If applicable, you may want to review the information about record formats from the Week 3 Individual Assignment.


You'll get a 14.1KB .DOCX file.
More products from UopTutorials