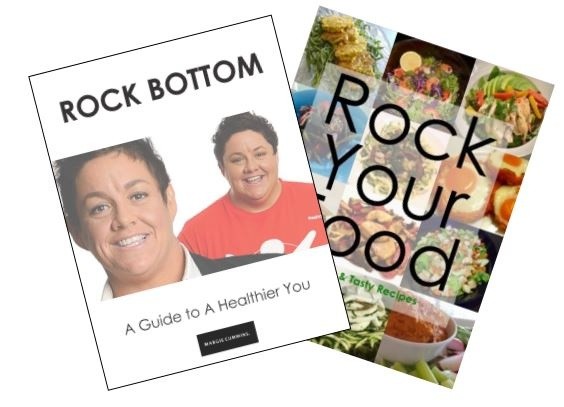 Rock Bottom Starter Package
Purchase Rock Bottom and Rock Your Food together. These two eBooks go hand in hand and will help you achieve your weight loss goals.

– ROCK BOTTOM – 

Rock Bottom provides information about weight loss, weight loss success stories and a set plan to help you lose weight quickly.  Released in early Feb 2014, Rock Bottom hit the ground running, selling 1000's of copies. Of those who registered their weekly weight loss, the group lost just over 4500kg! That's a lot of weight shifted! We have helped many transform their lives, becoming healthy, happy & confident individuals.

The SET core plan is based on fresh foods, fruit and vegetables, involves minimal preparation, which leaves you more time for the important things, like….. living!!  With 3 different ways to use the core plan, it is incredibly flexible and family friendly.  Buyers of the eBook also can ask to join to our private support group. We feel this is an essential part of successful weight loss.

There is no registering. Not waiting for rounds. No ongoing costs. 

– ROCK YOUR FOOD – 

Rock Your Food is a recipe book filled with healthy, delicious recipes that can be used while following the Rock Bottom plan OR by anyone wanting to cook tasty meals for their family.  Rock Your Food has the following sections – Breakfast, Vegetable, Chicken, Seafood, Salad, Snacks and Condiment & Spice Mixes.  Each recipe has calories, MACROS and codes such as Gluten Free, High Protein, Vegetarian, Vegan and Air Fryer Friendly to help you select the right recipe for your needs, as well as a helpful tips section.
You'll get 1 file (15.1MB)
More products from Margie Cummins