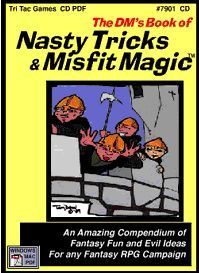 DM's Book of Nasty Tricks & Misfit Magic
tritacgames.com
An amazing compendium of fantasy fun and evil ideas for any fantasy RPG campaign.
Included in this full color edition are the dreaded Origins Tournaments from Tri Tac and a special Behind the Art of Tri Tac section of never before published material.
pBwN
$12.95
53f53dec24c10b6a6f2af43c
You'll get a 6.1MB .PDF file.
More products from Tri Tac Games