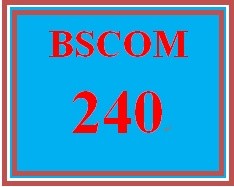 BSCOM 240 Week 1 Pre-Search Questions and Application
BSCOM 240 Entire Course Link 
https://uopcourses.com/category/bscom-240/
BSCOM 240 Week 1 Pre-Search Questions and Application
Develop
 a list of at least five pre-search questions to avoid message bias and identify potential sources about your project topic. See examples in Ch. 9 of 
Reaching Audiences
under "Developing a Strategy" in the "Getting Started" section. 
Find
 and list three or four sources for your project topic. Use Appendix A: Information Trail to help you organize your sources.
Write
 a 350- to 700-word analysis of the sources for their credibility based on the following criteria:


Accuracy


Authority


Currency


Audience


Agenda


Develop
 a list of several follow-up questions you have after reading these sources.
Format
 your paper and cite your resources consistent with APA guidelines.
Submit
 your assignment to the Assignment Files tab. 
You'll get 1 file (20.3KB)
More products from UopTutorialStore