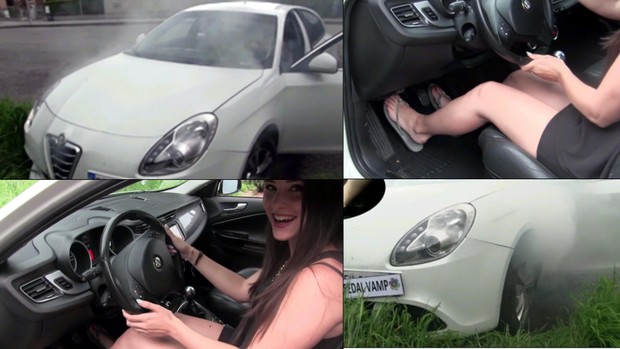 179 : Miss Iris Vs Miss Giulietta
"Live from a Alfa Giulietta!"

This is what Miss Iris says at the beginning of this video. After taking control of the camera, she starts filming the surrounding and then a closer look at her sandals, with red toenails!

She is wearing a black top with black short skirt.

She gets out from the driver seat and she starts going around the car, to let you see how beautiful is the car she has to drive today!

She then gets back in the car, and starts to drive forward to the curb!

The car is resisting to not going there, probably because it understood that it's not a good thing to do, but miss iris insist on going over and at the end she is in the curbs! The car can't (or doesn't want to) go forward, but she wants to get in the curbs and dirty all this white car!

Now it started a fighting between Miss Iris and the curb! She pushes the gas to the limit, revs the car at the maximum, because she wants to win!

How will it end?
You'll get 1 file (265.0MB)