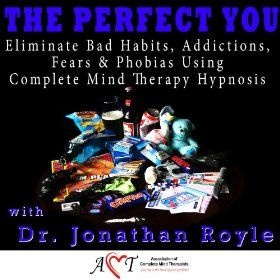 LIFE CHANGES - THE PERFECT YOU (Habit's, Fears, Phobias, Addictions & More)
LIFE CHANGES - THE PERFECT YOU (Habit's, Fears, Phobias, Addictions & More)
Whatever Your Habit, Fear, Phobia, Addiction or other Problem or Issue may be from A through to Z, this unique Audio MP3 Recording is formulated to help you change your life for the better.
Simply listen to the 53 minute Audio MP3 Once Every other day for the next 28 days and notice how all those Habits, Fears, Phobias, Addictions and other problems just start to rapidly and easily Melt Away....
This is an eyes closed relaxation process and should not be listened to whilst driving.
This "Complete Mind Therapy" Session combines the most effective and proven elements of NLP, Hypnotherapy, Creative Visualization and other cutting edge Psychological Treatment Techniques to help you change your life for the better.
Exciting News – All Our Products Now Come with Real Live Personal Assistance and Support Included at No Additional Cost.
Our Products and Courses were already the Most Comprehensive and Best Value for Money, whilst also being Unique and Unrivaled in all manners, but now things just got even better for you all...
http://tinyurl.com/qz3q8e7
You'll get 1 file (71.8MB)