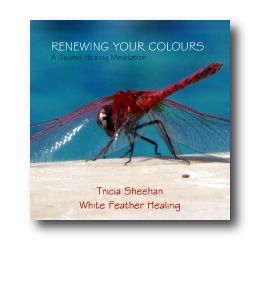 Renewing Your Colours by Tricia Sheehan
Download a copy of Tricia Sheehans meditation 'Renewing Your Colours' in MP3 format. The meditation is 56 minutes long and is 129MB in size. A sample meditation can be found on her website.
Our bodies are fed by a ray of white spiritual light or energy, a ray that incorporates all the colours of the spectrum. The sheer effort of life and all of its demands and challenges can create tightness in our cells and organs. We can experience feelings of tiredness, stress, exhaustion, overwhelm and illness as our energy depletes.This Guided Healing Meditation aims to renew, recharge and revitalise your body and mind. As we open to all the colours of the spectrum each cell within us can breathe again with renewed ease and relaxation.
When listening to this meditation it is important to sit or lie, with your eyes closed, in a quiet undisturbed place. Regular meditation can promote deep healing and positive change. As meditation alters your brainwaves do not listen while driving.
www.whitefeatherhealing.com
You'll get a 129.9MB .MP3 file.