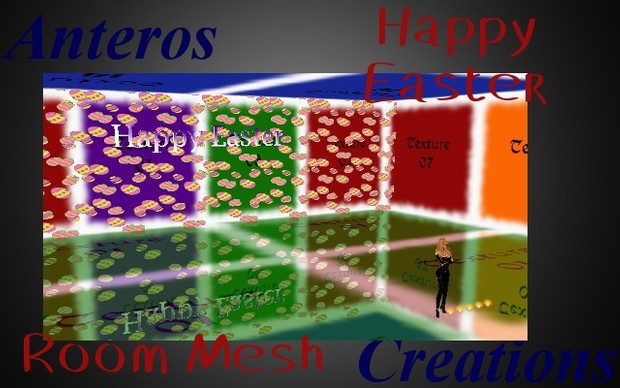 Room Mesh -- Happy Easter
I hope you enjoy these meshes they are awesome and QueenIrish out did herself as usual!!
Please take a few moments to read the rules listed below!
**YOU
DID NOT PURCHASE RESALE RIGHTS FROM ME, i am not allowed to grant
resale rights so these are simply for you to upload into your catty and
set as DERIVERABLE! and to texture for your own use :)**
~Rules for using QueenIrish's textures/meshes~
1. DO NOT claim these textures/meshes as your own!
2. DO NOT sell, giveaway or redistribute these textures!
3. You are NOT allowed to crop, cut and recolor these textures for the purpose of selling them!
4. You ARE allowed to crop, cut and recolor for your PERSONAL use!
5. These textures can only be used by the Avatar name provided at time of sale.
6. If your name changes you MUST inform me so that I can update my records
7. You are NOT allowed to sell or giveaway this mesh!
Failure to follow the above rules will lead to your account being reported, and you being removed from the group!!
If you do a product page, please consider placing Irish's banner on it for products made
using any of these textures/meshes. (code provided below)
~Product Page Banner~
<a href='
http://www.imvu.com/shop/web_search.php?manufacturers_id=17821909'
target='_blank' <img src='
http://i350.photobucket.com/albums/q406/broadwaygirl84/Products
Banners/CreationsByIrishBanner.jpg' border='0' /</a
---------------------------------------------------------------------------------------------
PLEASE
BE SURE TO SEND ME A MESSAGE WHEN YOU PURCHASE THIS FILE AND LET ME
KNOW WHAT YOUR IMVU NAME IS!! I NEED TO KEEP RECORDS OF PURCHASES FOR FUTURE USE. Thanks so much!! -- Mandy
You'll get 1 file (364.5KB)
More products from Skye Creations